10th volume of "Developer's Backyard"(7/8 Release)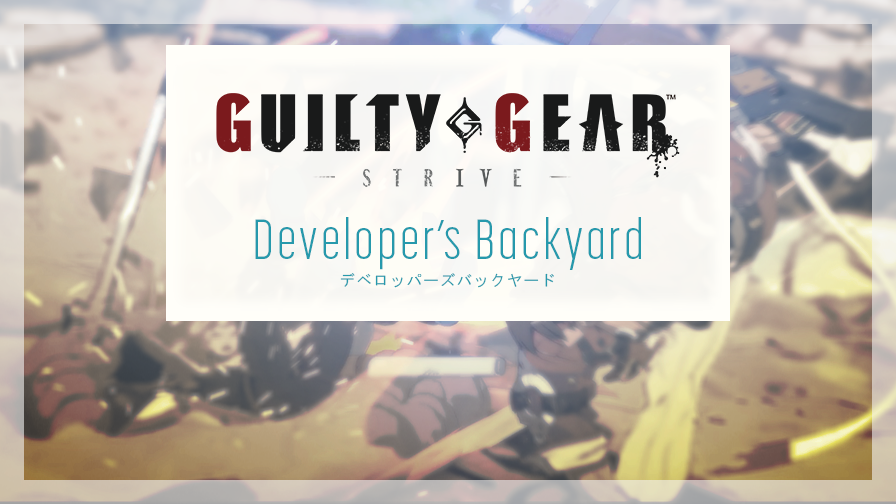 Welcome to another volume of "Developer's Backyard."
This is Katano, director at Arc System Works.

How is everyone handling the hot weather lately?
It's been quite a while since the last volume of Developer's Backyard.
We started this project hoping to have an open dialogue between the players and us at Arc System Works, so I really apologize for the lapse in updates. We've seen all of the feedback you've sent our way.
Looking back over the time since the last volume, the official online tournaments ARCREVO EMEA, ARCREVO Japan & Korea, as well as ARCREVO America were held. Latif (Zato-1) took first place in EMEA, with TY (Giovanna) winning in Japan & Korea, and Hotashi (Nagoriyuki) the victor in America. Congratulations!
All of these players are major competitors who have made strong showings in other tournaments, as well. I watched the streams for all of these tournaments, and I was truly impressed by the incredible matches both as a developer and just as a viewer.

These are the top 3 placements for each ARCREVO.
1.Latif (Zato-1)
2.Skyll (Sol)
3.Uriel_Legion (Nagoriyuki)

1.TY (Giovanna)
2.Infiltration (Zato-1)
3.GOBOU (Zato-1/Goldlewis)
1.Hotashi (Nagoriyuki)
2.Jonathan Tene (Zato-1)
3.Daze (Giovanna)
After these tournaments, the latest character Testament and the finale for Season Pass 1, Another Story, were announced and released. We'll go into more detail on both later in this volume.



Another big event would have to be the announcement of the official Arc System Works international tournament, ARC WORLD TOUR 2022. The total prize money adds up to $200,000! Guilty Gear -Strive- will be featured as a competition title, so be sure to check it out.
https://www.arcsystemworks.jp/awt2022/en/

In this volume of Developer's Backyard, we'd like to cover Testament, Another Story, the latest battle balance changes and future updates, as well as answer some questions.
Introducing Testament
Crimson Scythe Swaying in an Enchanting Dance, Elegant Grim Reaper "Testament"
Name: Testament
Height: 185 cm (6'1)
Weight: 73 kg (161 lbs)
Blood Type: Unanalyzable
Birth Date: May 9
Origin: Switzerland
Hobbies: Fashion magazines, DIY, collecting makeup, making plastic models (especially giant robots), visiting tourism sites, fishing, ceramics, river trekking, road biking, viewing opera, weight training, fortune-telling, bonsai, gardening, watching wrestling, baking, mahjong, painting (not well), embroidery, mountain climbing, nail art, golfing, star-gazing, touring hot springs, board games, writing science fiction novels, barbecue, belly dance, beach volleyball, watching baseball, making doll houses, liquor (they're a non-drinker), snowboarding, watching shark B movies, collecting occult goods from stores, picture diaries
Values: Themself, their family, their demon familiars, the late Kliff Undersn, french fries
Dislikes: Saito-style martial arts
==
Testament was once human, before being surgically modified into a Gear.

Under the control of the Conclave, they worked to revive Justice.
After the events of the Second Holy Order Selection Tournament, however, they regained their sense of self.
Feeling guilty, they hid in the Forest of Demons, before resolving to protect the half-Gear Dizzy from the humans who pursued her.
Although this began as a way to atone for their sins, it ended up bringing back their human sensibility.

They now live with the elderly couple who once took care of Dizzy.
This new life has brought them peace of mind, and they now enjoy their share of happiness.
==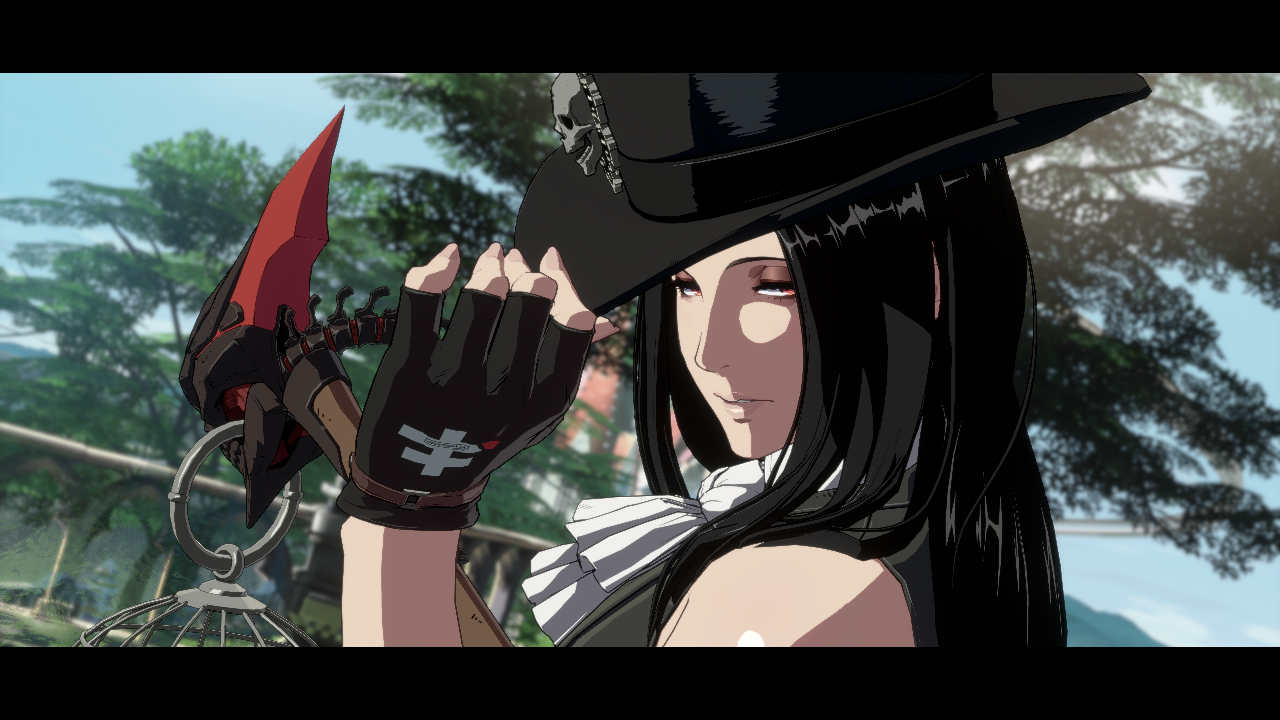 Testament has been around since the original Guilty Gear game, but they're joining the playable roster for the first time in a while after being absent throughout the Xrd series.

Their design has undergone quite a change from past titles. Testament's design concept for GGST would have to be "beauty."
We worked on creating them with a beauty similar to that of a sculpture or a painting.

After undergoing surgical modification and being turned into a Gear, Testament has lived without the concept of gender.
Although in the past they may have shown a hostile side when opposing humanity and protecting Dizzy, they now live peacefully and joyously with the elderly couple who raised Dizzy.

The "hobbies" section of their profile is quite something. This goes to show how much they're enjoying life now.
As the development team, we've really enjoyed the many fanarts we've seen of Testament enjoying their hobbies.
Introducing Another Story
Another Story released at the end of April.
*You need to purchase Season Pass 1 and have completed the main story in order to view Another Story.
There's approximately 45 minutes of content, so be sure to play through it if you haven't yet.

It takes place around the same time chronologically as the main story, showing what was going on behind the scenes.
The story features characters who don't appear in the main narrative, including Delilah, the sister of Bedman from the Xrd series.

As with the main story, most characters' in-battle voice-lines and Arcade Mode stories take place after the events of Another Story.
Characters such as Faust and Baiken undergo major changes to their state of mind after the events of Another Story. After playing through the story, you might come to new realizations playing through their Arcade Modes again.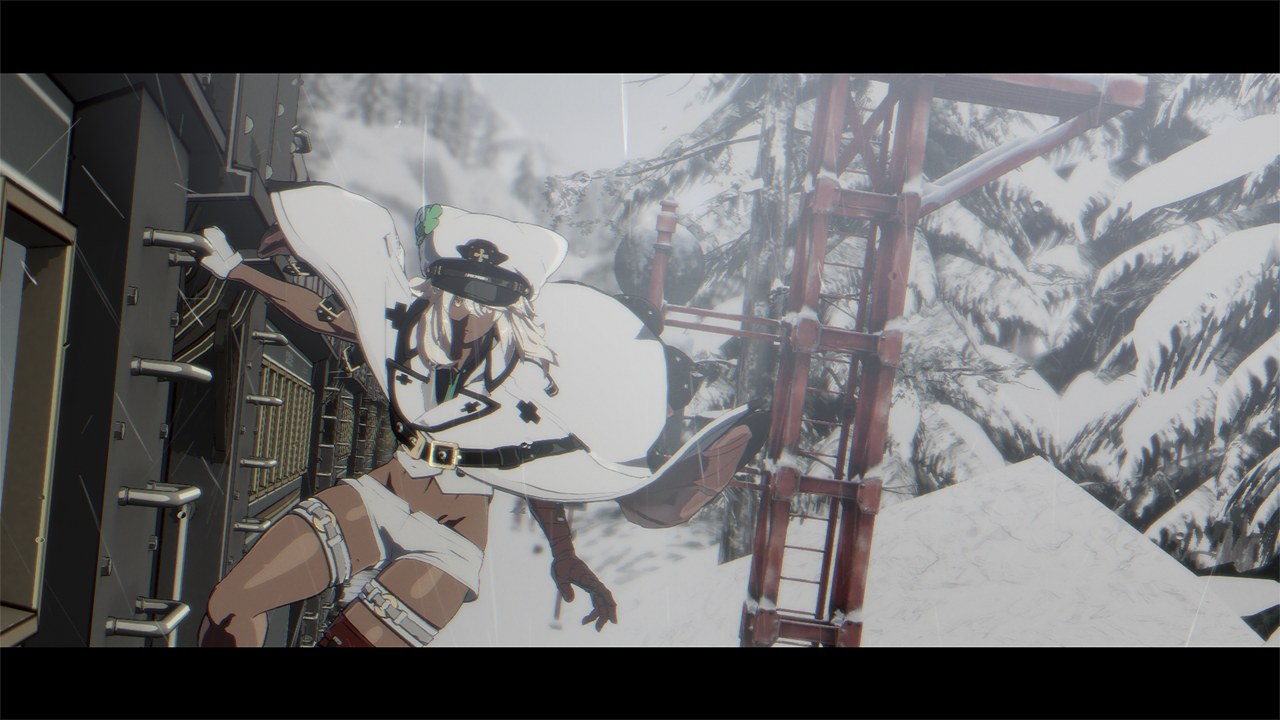 Q&A
*Please note that some questions may be altered for publication.
Q.
There are some things in-game that look like bugs, such as being able to cancel follow-up moves into Overdrives and continuing pressure for an extended time using Roman Cancel during Positive Bonus.

Are these intentional, or are you planning on fixing them?
I'm hoping for an official statement on this in the near future. Thank you.
A.We sincerely apologize, as the bugs after the Ver. 1.18 major battle balance update caused uncertainty as to whether or not some changes are intentional. The update to Ver. 1.19 removed those bugs.

The ability to cancel the start-up of special move follow-ups into Overdrives, as well as certain strings possible during Positive Bonus, are intentional.

These changes fall in line with our overall goal of rewarding advanced techniques by increasing the benefit of pulling off technically challenging inputs.

See below for more details about the bug fixes.

https://www.guiltygear.com/ggst/en/news/post-1582/

While there are no immediate plans for further balance changes, the development team will continue to work to provide a fun game experience in future updates as well, with the current state of the game and everyone's feedback in mind.
Q.
Hello! I love using green colors for the character palettes. In GGST, Color 5 is the green color for everyone, with some exceptions.
Depending on the character though, it can be more of an emerald green or even a light blue.
I have nothing against blue, but green is a really great color.
Please… Give all the characters a green color!
I'm begging you!!!
A.Although we have an overall direction for the shade of the color palettes for each number, we consider and design each palette for the individual character.
This means that some characters will end up with a different shade than others for that color palette.
You could say that we prioritize selecting colors that work well for the character rather than having dedicated colors for each number.

That being said, we've received a lot of requests regarding the character colors (not only for green).
We've seen your feedback. Do look forward to future developments.
Notice
That's all for this volume of Developer's Backyard.
Thank you for reading to the end.
I hope to have the next update out sometime during the Summer. Stay tuned!

We're currently accepting submissions for topics you'd like us to discuss in a future Developer's Backyard as well as questions and comments via the form below.

Finally, we have an announcement for everyone from the producer, Yamanaka.
Thank you so much for playing Guilty Gear -Strive-.
This is Yamanaka, the producer.

After its release on June 11 last year, GGST has now entered its second year.
This is all thanks to everyone who keeps the game alive by playing regularly. I can't thank you all enough.

I'd like to take this opportunity in this volume of Developer's Backyard to inform you of a change in the role of producer. I understand some fans may feel uncertain about the sudden change, but we've worked to ensure that this will not have any effect on future development, management, and promotional efforts.

The team is currently working hard under this new structure on future game updates (such as additional characters and crossplay).

I first worked on the Guilty Gear series for the release of the append disc for GGXX Accent Core Plus, and then worked as a director for over 10 years through Overture, AC+R, Vastedge, and the Xrd series, before taking the role as producer for GGST.
Before I realized it, I'd become one of the veteran Guilty Gear team members. Between both fun times and tough times, I made many connections with others and experienced many new things through Guilty Gear. Thank you for everything.

With GGST, we caused worry to the players looking forward to the game by pushing the release date back twice. We've made it through the first year after release thanks to the dedication of the team to creating something they can be proud of, as well as the kind support from the playerbase.

The new producer, Ken Miyauchi, is quite a bit younger than me.
Future development, management, and sales efforts will go forward with the new producer Miyauchi and the director Katano at the lead. The younger generation team should provide a breath of fresh air to Guilty Gear -Strive-. GGST still has a lot coming up, and the Guilty Gear series will continue to tackle new challenges. I'll work to support the series and team under the new structure as the brand manager. Get excited for the future of the Guilty Gear series!

Guilty Gear Series Brand Manager
Takeshi Yamanaka
Nice to meet you, GG players!
My name is Ken Miyauchi, and I'll be taking on the role of producer for the Guilty Gear series.

It's truly an honor to take up the reins from Yamanaka-P for the Guilty Gear series, with its long history and many talents behind it.
The development and management teams will work together to continue providing a fun experience for Guilty Gear fans.

Next month, myself and the general director Ishiwatari as well as the director Katano are planning to head to Las Vegas for EVO 2022. I hope to greet everyone there.

One last thing, we've set up a player survey as we proceed with future developments for the Guilty Gear series and Guilty Gear -Strive- after its first anniversary.
We'd really appreciate your cooperation.

Thank you for your continued support of the Guilty Gear series!

Guilty Gear Series Producer
Ken Michael Miyauchi
Check out the official GGST Twitter for the latest info!
https://twitter.com/GUILTYGEAR_PR

For English tweets follow https://twitter.com/ArcSystemWorksU
Developer's Backyard Submission Form
Past Entries