15th volume of "Developer's Backyard"(10/31 Release)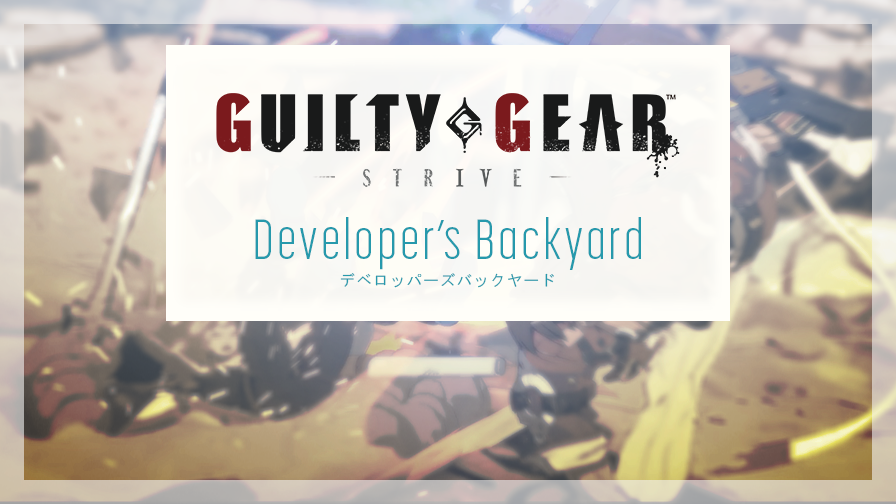 Greetings, everyone! This is Miyauchi, the producer, and Katano, the director.

With the update to Ver. 1.29 released on August 24, 2023, Season 3 of Guilty Gear -Strive- is underway!
In this 15th volume of Developer's Backyard, we'll cover the start of Season 3, with some new details on the information shared from EVO 2023 to the recent Developer's Backyard TGS Edition at Tokyo Game Show 2023.
Be sure to read through to the end!

● GGST Celebrates Over 2.5 Million Total Players!
● Season 3 Now Underway!
● Introducing Johnny
● Season 3 Update Schedule
● Season 3 Survey Results
● Q&A
● Tournament / Event Information
Guilty Gear -Strive- Celebrates Over 2.5 Million Total Players!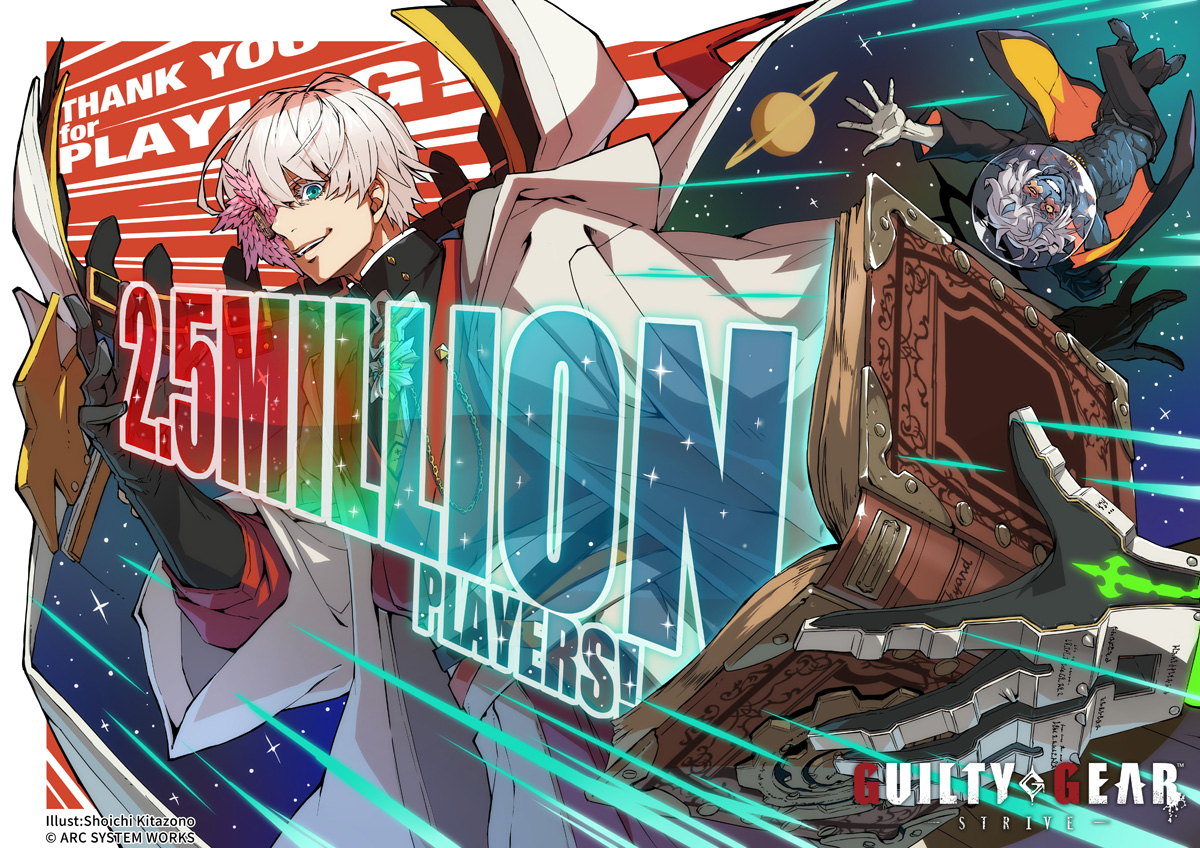 Only a year after hitting 1 million players worldwide in August 2022, Guilty Gear -Strive- now celebrates over 2.5 million total players!
Guilty Gear -Strive- keeps breaking records for Arc System Works. We owe it all to everyone out there supporting the community, from the players, to the fans, to the tournament organizers.

Now two and a half years after release, the development team is still working passionately on game updates. We've got some surprises in store for you all, so stay along for the ride!
Season 3 Now Underway!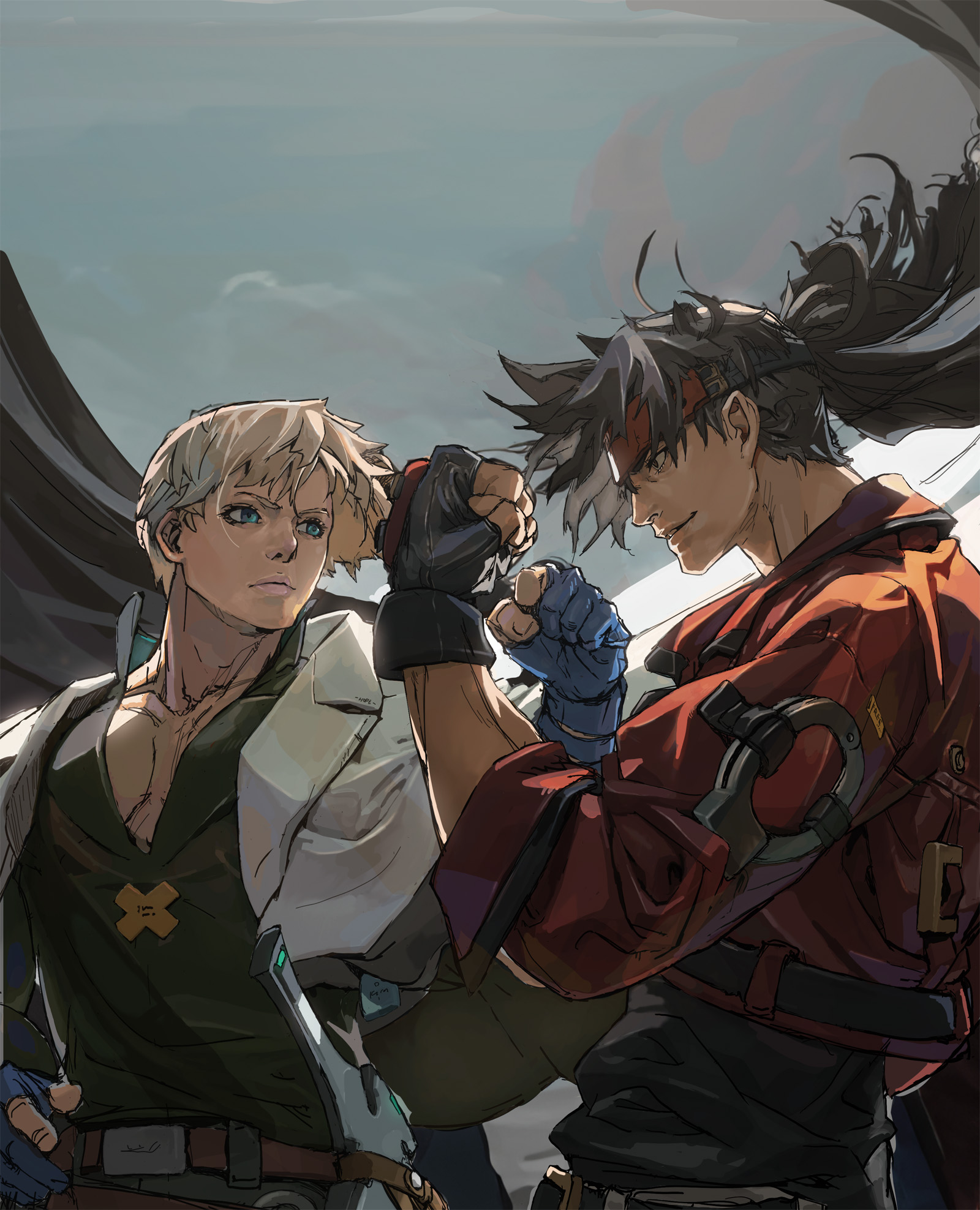 As we enter the 3rd year of Guilty Gear -Strive- after celebrating the 2nd anniversary, Season 3 is now underway. Sol and Ky star in the main visual for the new season, illustrated by the general director Daisuke Ishiwatari.

Here's a brief introduction to some of the initial Season 3 updates.
Updated Menu UI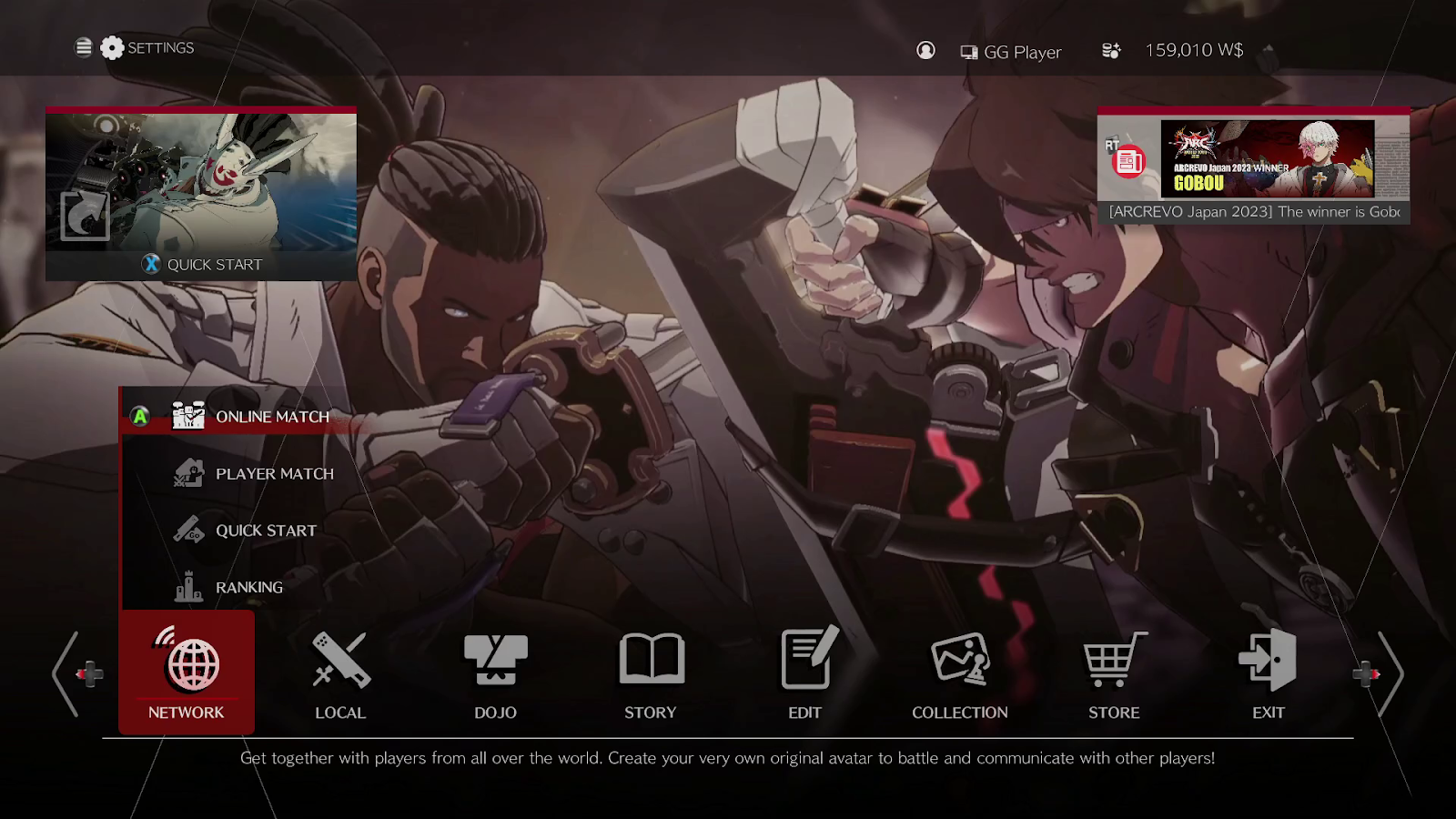 The menu UI received a major overhaul ahead of the upcoming updates.
Along with the UI update, we've added a new Quick Access feature. This lets you jump right into the game mode selected for Quick Access in the upper left of the screen with a single press of a button.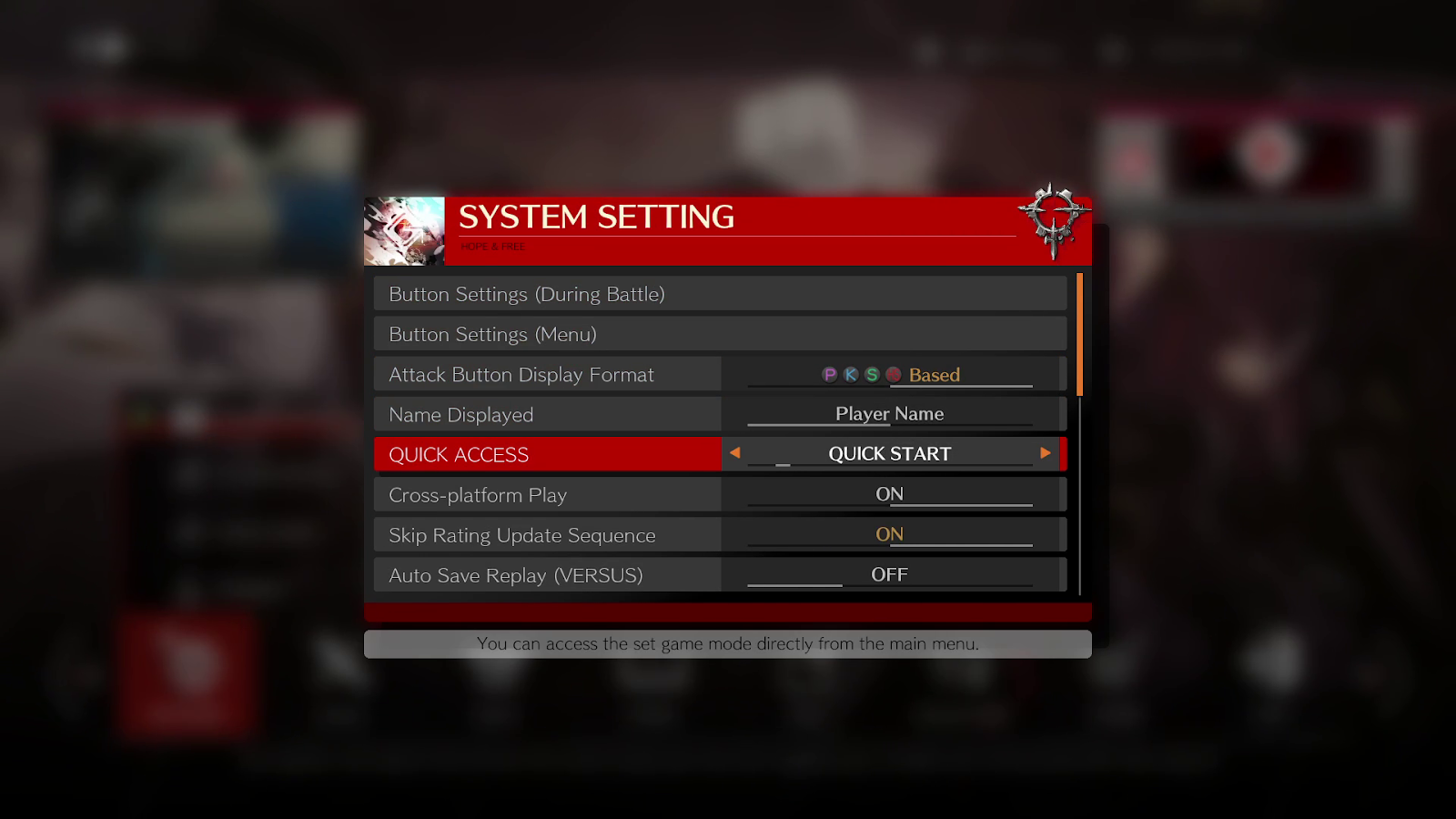 To choose the game mode for Quick Access, open System Settings from the Settings menu and pick your mode of choice for the Quick Access item. Try it out!
New Special Moves
Starting this season, we'll be adding new special moves for the 15 characters on the initial roster. The first group of characters, May, Faust, Ramlethal, Giovanna, Anji, and I-No, can now unleash their new special moves.

Even with the current total of 10 characters joining the GGST roster as DLC, some players have stuck with the same character ever since launch. The decision to add these new special moves came from a desire to provide a new gameplay experience for such players, aligned with the changes in the overall environment.
To tell the truth, we've had to spread the additions out across future updates due to development concerns. Work is underway on the remaining characters, however, so look forward to more exciting moves in the future!

When adding new moves, our general philosophy is to ensure the difficulty level of inputs needed to play each character remains more or less the same. For example, we plan to add simplified inputs to perform the follow-up moves for Giovanna's Chave in a future update.

As an aside, adding new moves and new characters naturally means we need new move names as well.
These names are selected through a process starting with the team members coming up with a list of suggestions while checking in with general director Ishiwatari to ensure they fit for the character. The list is then narrowed down to the final names with the character backstory and translation process in mind.
This task is extremely important, especially given that some moves have the name selected first before the visual is finalized.

For example, in the last update we added a new move allowing May to jump forward during Mr. Dolphin (Horizontal).
The team came up with over 30 name ideas for this move alone: Spinning Jump or Rocket Jump, like something you'd see at a dolphin show, or incorporating the sound with Whistle or Click, or even something to capture May's personality like "Strike a Pose!"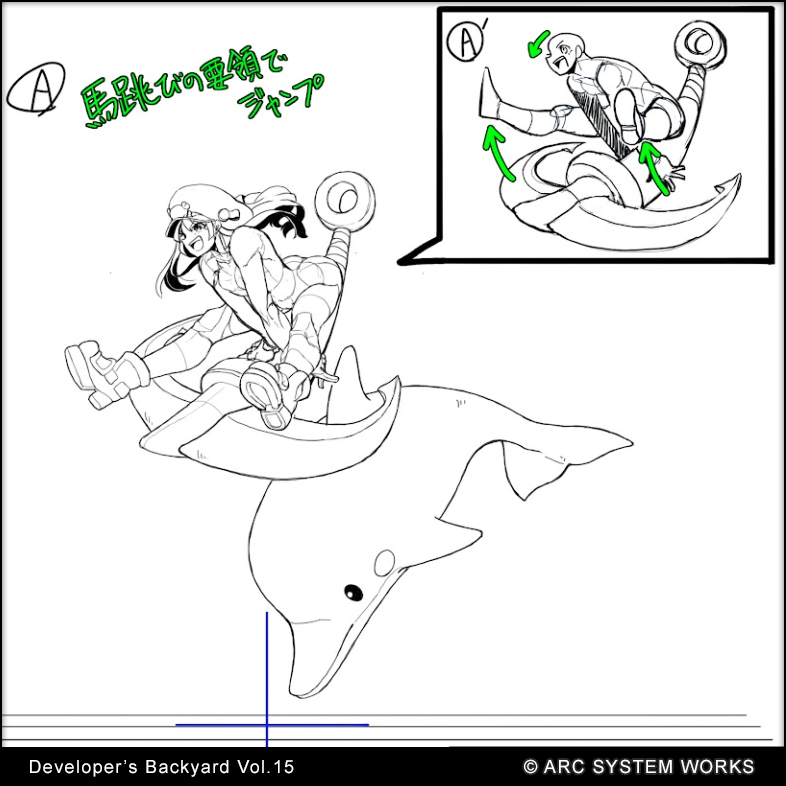 Ultimately, we decided to convey through the straightforward name Split that the move doesn't actually have an attack hitbox.
It's quite common in game development to end up prioritizing clarity and go with a simple answer after exploring more complex alternatives.

The references differ for each character, from Anji's moves inspired by Japanese dance and Noh performances, to Giovanna's use of Portuguese and Ramlethal's Esperanto… The team comes up with the ideas for new characters and moves through a process of intense research.
New Battle Mechanics



The new offensive mechanic, Wild Assault, and defensive mechanic, Deflect Shield, add additional layers of depth to battle strategy. Both mechanics can be used at the cost of half the Burst gauge. As they are reliant on the Burst gauge, the player risks having no means to escape via Psych Burst when hit with a damaging punish.

Our intent is for players to stick with Psych Burst while still learning the controls, while experienced players ready to try other mechanics can incorporate new strategies into their gameplay.
Large-scale Balance Update
With the start of the new season, we released a major balance update. For Season 2, we released two balance updates throughout the year, one major season update and one smaller scale mid-season update.

Although we expect a similar pace for balance updates in Season 3, there may be balance changes released together with additional moves for certain characters.
Johnny Joins the Fray!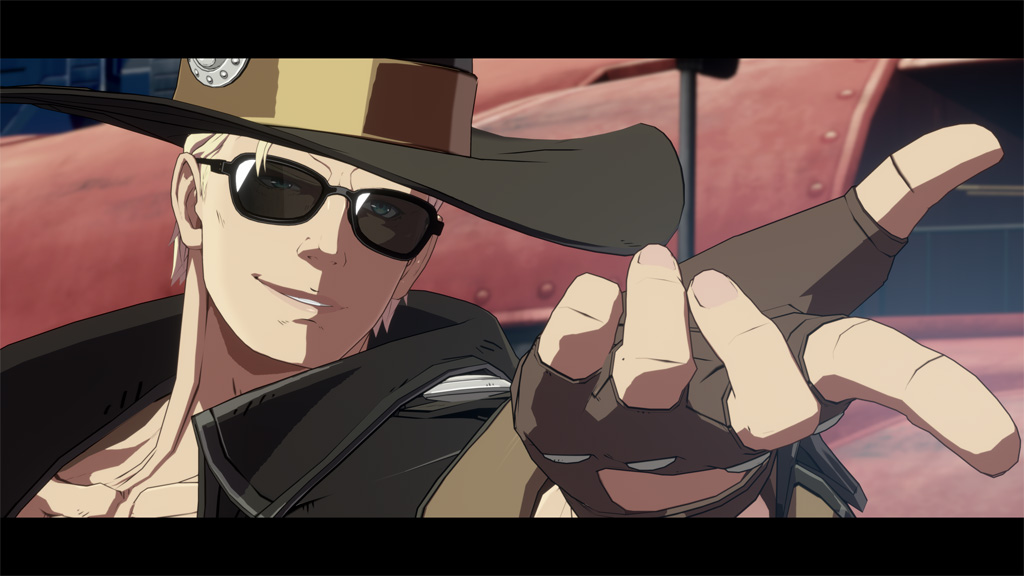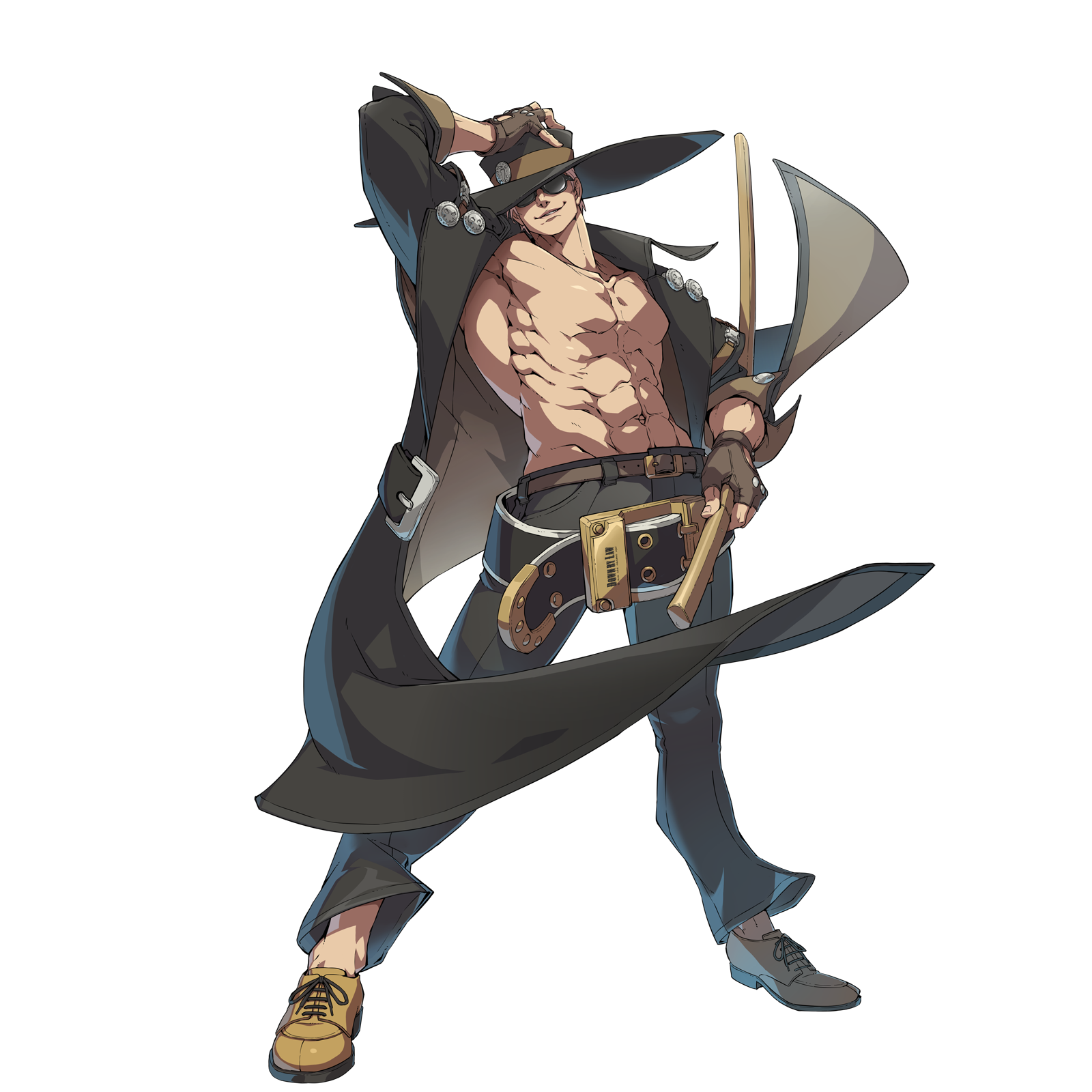 Name: Johnny
Height: 6'0" (184 cm)
Weight: 159 lbs (72 kg)
Blood Type: O
Date of Birth: October 24
Origin: America
Hobbies: Finding beautiful women
Values: His secret guitar collection
Dislikes: People who can't take a joke

Leader of the Jellyfish Pirates. He is a master of the Hirofumi Style of swordsmanship. He's a world-class outlaw but lives by the mantra, "Help the weak and sprain the strong," which has made him popular among the masses.

Johnny is an easy-going guy who's always ready to kick back, but when the going gets tough, he's undoubtedly the man for the job. No matter how grim the situation, he never loses his cool and is often there to break the tension with a clever joke. He rescues children orphaned from war (women only) and brings them aboard his ship. He loves the members of the Jellyfish Pirates like his own family and has often told them he puts their safety before his own life.
・Character Design
While Johnny's design maintains the core elements of his past iterations with some minor refinements, we put great care into accessories such as his cards.

You can check out the bottle used in Ensenga, for example, in the Gallery Mode. Go fishing and see for yourself!
The liquor could very well expand your view of the Guilty Gear world.
In battle, the poor bottle gets smashed in a flash, I'm afraid…

・Battle Design
Johnny boasts normals with great range as well as Mist Finer, a high-speed Iai slash that serves as the pillar of his game plan.
Hitting a card thrown during his move Deal with the slash from Mist Finer activates an additional attack hitbox, making it a powerful option in combos and mixup.
While his overall concept remains the same as in prior games, his other special moves functioning as support for Mist Finer have been tuned to match the game design of Strive.

We spent an especially long time debating how to handle Glitter is Gold, the limited number of coins that could power up Mist Finer.
This move embodied both his identity as a gambler, betting everything on the outcome of one well-timed strike, and as a master of the Iai technique.
At the same time, the level system for Mist Finer posed potential issues such as creating lock-down situations where neither player could move or reducing the frequency of Mist Finer use outside of combos.
This led us to the card system in Strive, which uses a limited active time to build a foundation for Johnny's offense.
Season 3 Update Schedule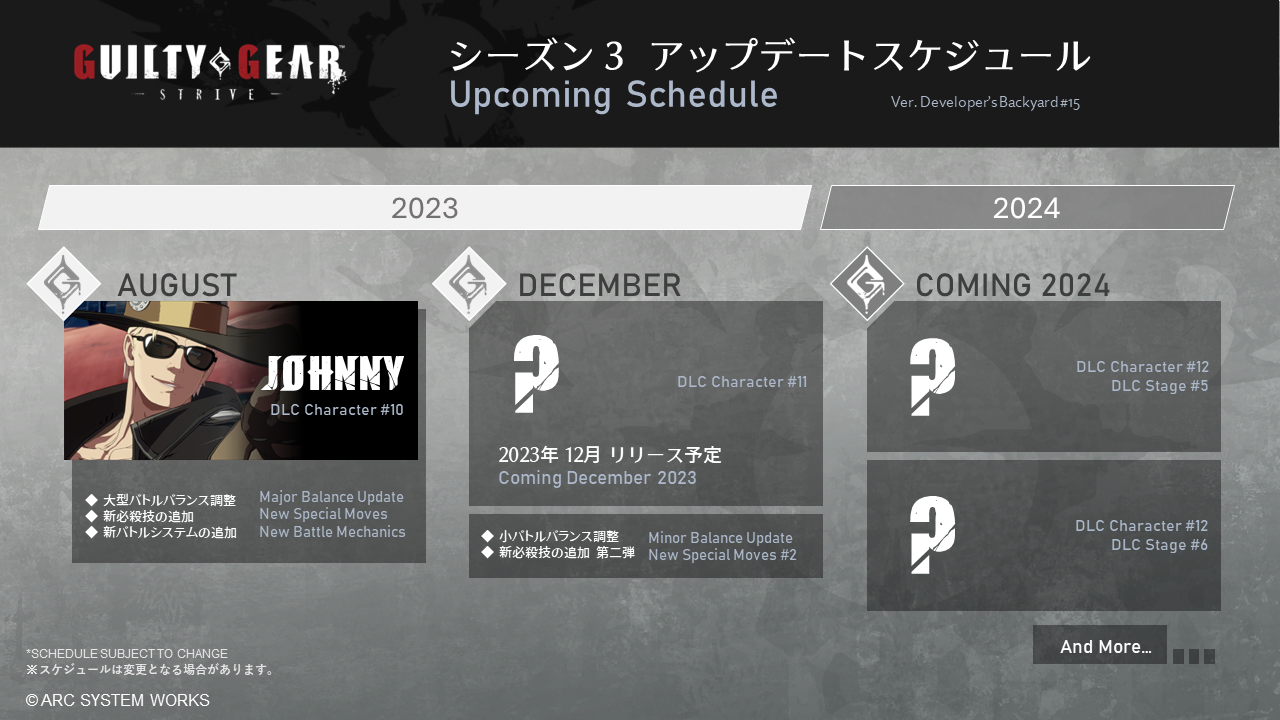 We revealed a roadmap for Season 3 during the TGS edition of Developer's Backyard on September 22. A month has passed already since then, so we'll take this chance to discuss what we have in the plans for Winter 2023.

The next update is coming up in December 2023.
In addition to a new character, this update will introduce the second round of new special moves, this time for 2 characters.
There's also a small-scale balance update in store, focused on adjustments to the new mechanics Wild Assault and Deflect Shield. This will include the aforementioned changes to input options for some characters' new moves such as Giovanna's Chave as well as fixes for issues.

More details and the release date will be announced at a later time.
Season 3 Survey Results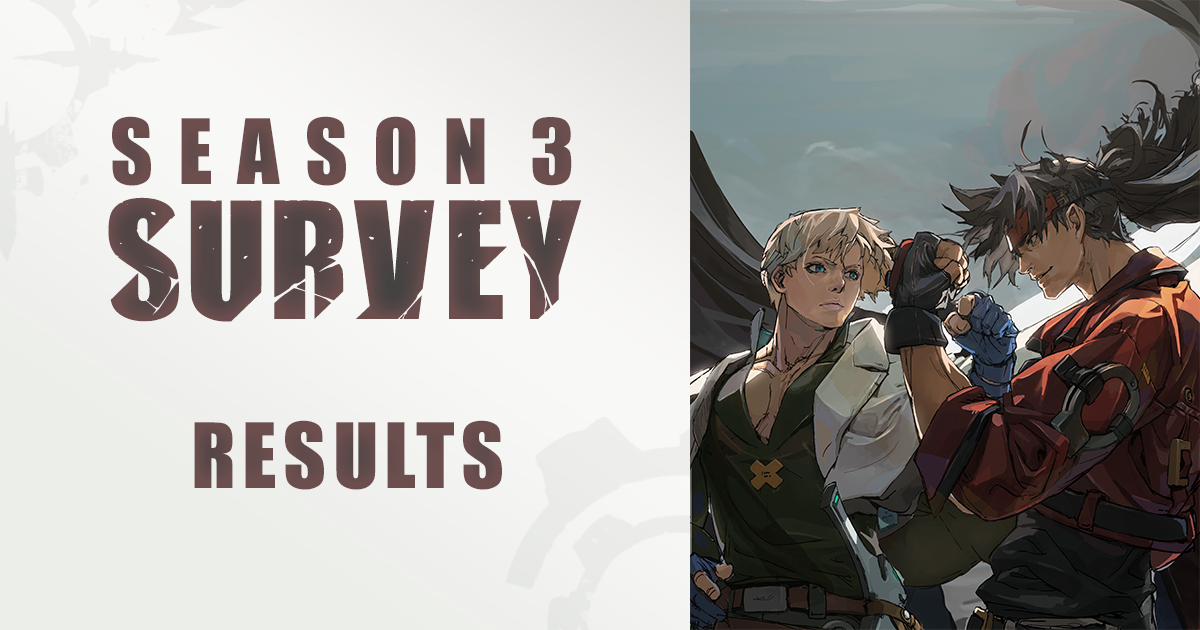 Next up, we'll cover the survey conducted in September after the Season 3 update.
Approximately 37,000 players filled out the survey. Thank you again to everyone who took the time to answer!

Here are the results, including some questions not touched on during the TGS edition of Developer's Backyard.
Age Distribution of Season 3 Survey Respondents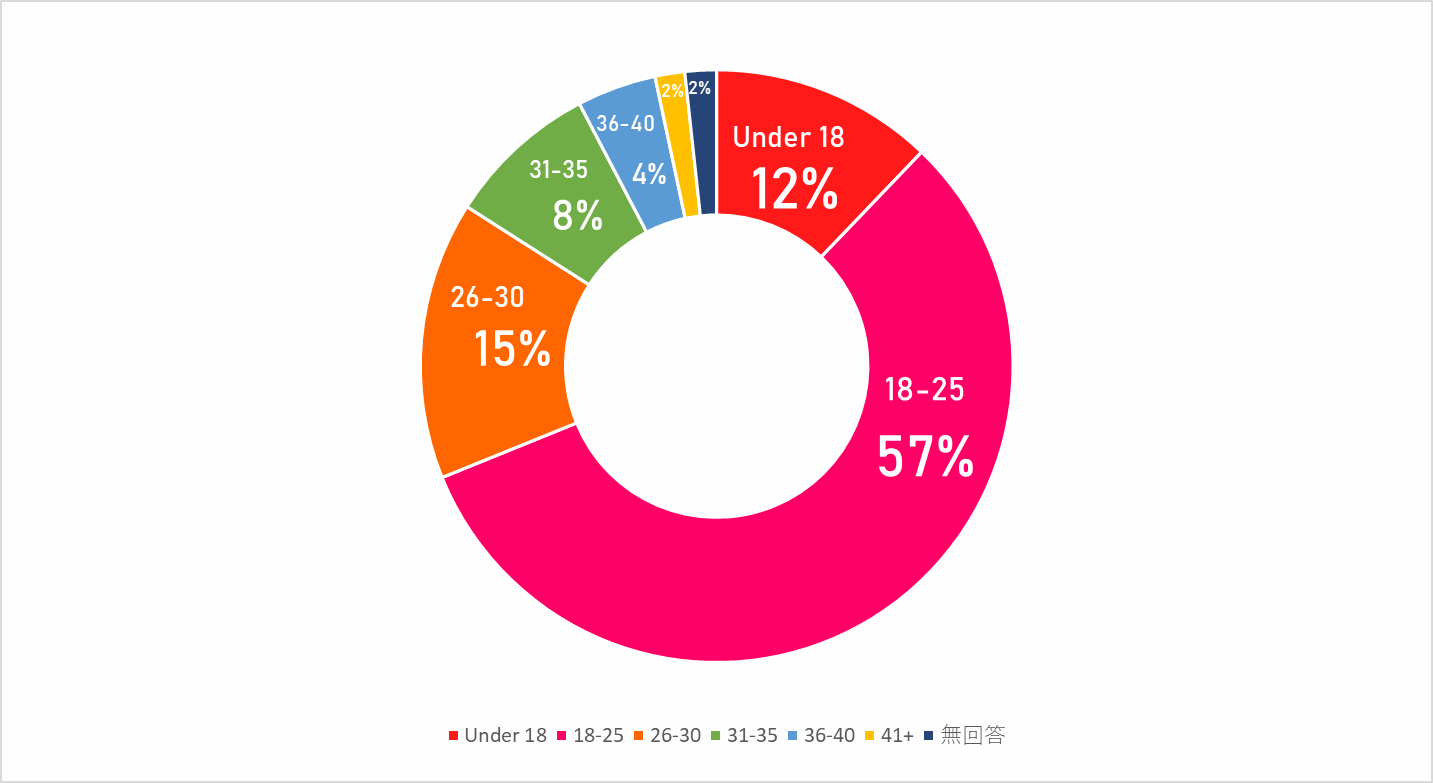 This is the age distribution of survey respondents, as shown during TGS.
Across all regions, we received more responses this time from players under the age of 25.
The number of players who haven't played any games in the series other than GGST is also uptrending.

We're really happy to see this. So many young players enjoying this title 25 years into the series is all thanks to the long-time fans supporting the community. We can't thank you all enough.
Who is Your Favorite Playable Character in GGST?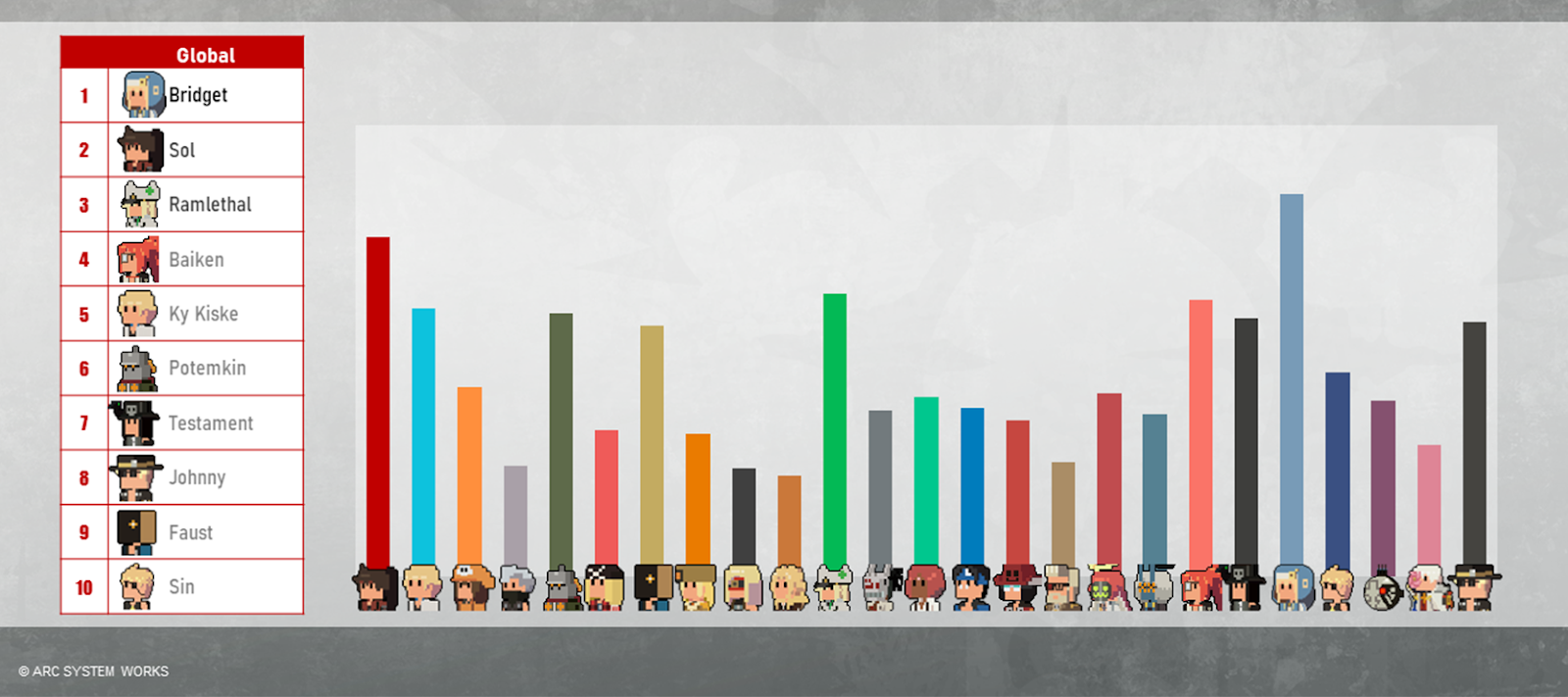 Compared to the results back in Season 1, new contenders Bridget, Sin, and the latest addition Johnny ranked in. Looking at the results for each region, some regions favor a totally different spread of characters, making for some really interesting data.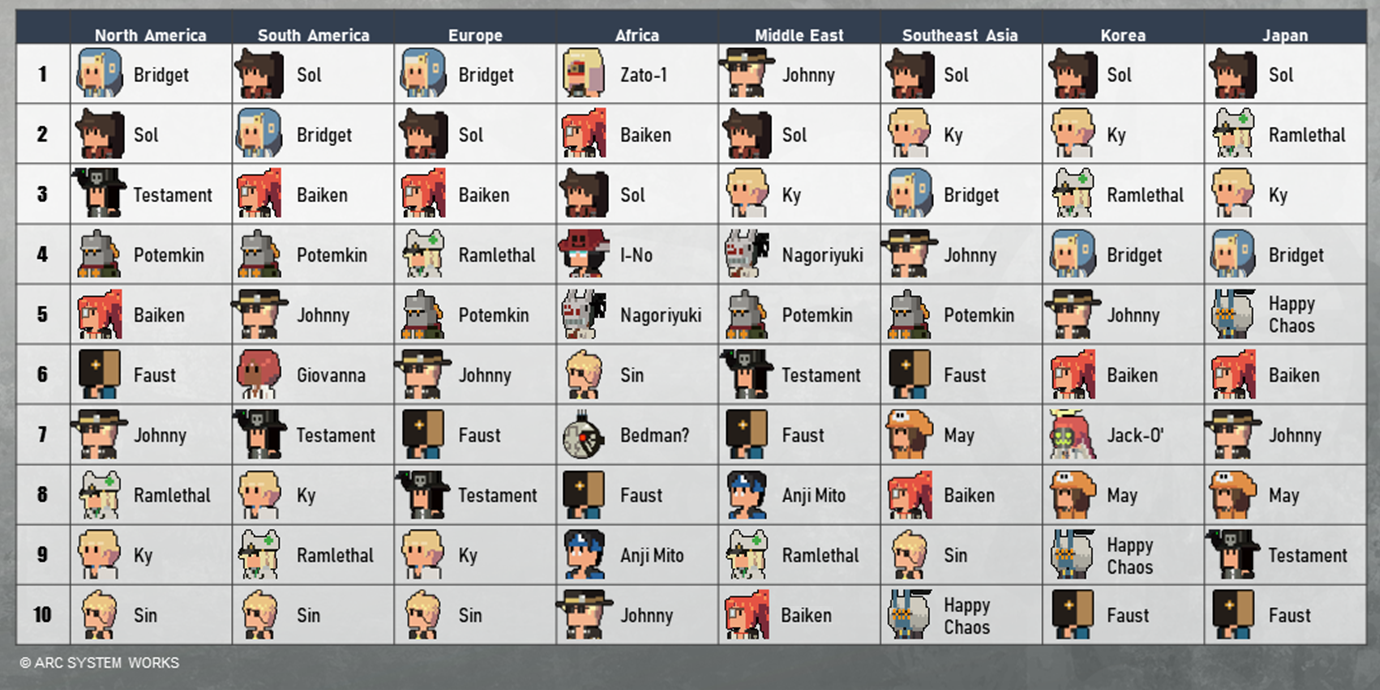 Sol places high regardless of region, as expected of the main character. Bridget boasts incredible popularity in North America and Europe, where answers were highly concentrated, meaning she beat Sol by a narrow margin in total global votes.
Despite the increase in characters, respondents were still limited to one choice each. It appears this led to a major shift in placement compared to the previous survey. It might be fun to see how it changes things if we let respondents pick up to two characters next time.
What characters would you like to see playable in Guilty Gear -Strive-? (Up to 3)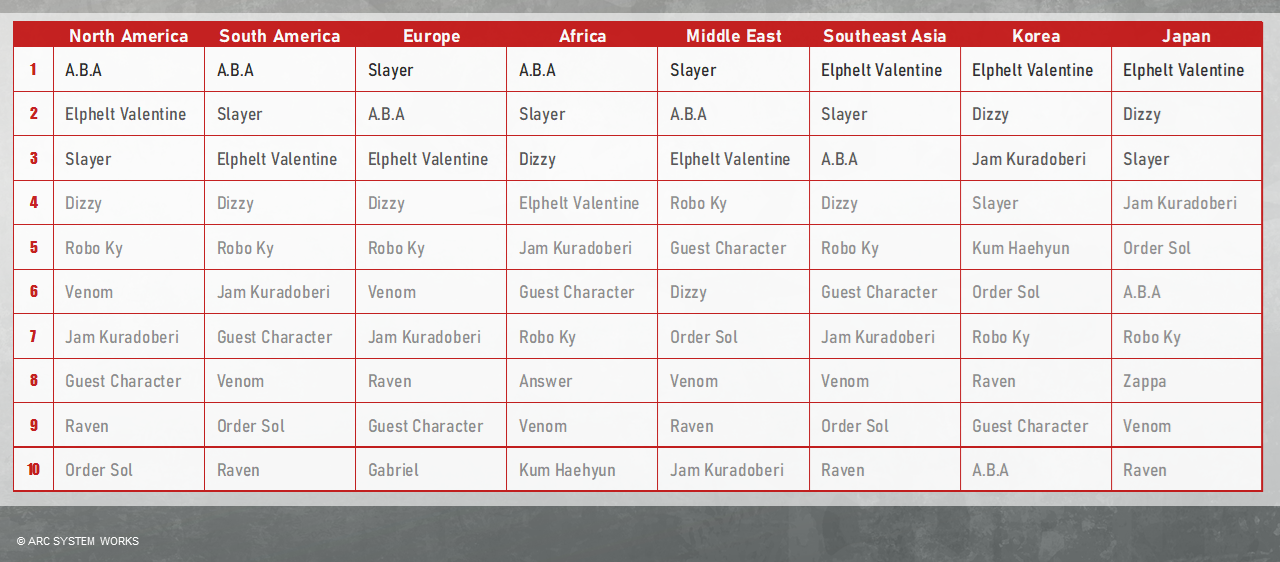 These were the results. Overall, many people are hoping for A.B.A, Elphelt, Slayer, and Dizzy. There were also quite a few requests in the free entry option for a completely new character.
We'll have these results in mind when working on development for future characters. That's all I can say for now! Keep an eye out for the upcoming characters in Season 3.
What are you hoping for in future updates? (Up to 6)



These are the results as to what players are hoping to see in future updates. The results are more or less the same as the Season 2 survey, although we can see an increase in demand for additional story content.

As for improvements to the network system, while this is in the plans, due to a variety of circumstances we still don't have any details on this update to share with you.
We are currently prioritizing updates to increase network stability and security. We appreciate your continued patience.

We're also hoping to find an opportunity to present new story content aside from the Arcade Mode stories delving into the new characters.
Q&A
Q.I'd love to see a new artbook with designs for the Guilty Gear setting, or a book with the Overture and Xrd designs (the book bundled with the limited edition of Revelator) as well as the GGST artbook all together!
It's been a long time since we've released GG designs and artbooks, so we've got a lot of material going back to Guilty Gear Xrd we'd like to share. I hope we can make this a reality sooner rather than later.
Q.Are the limitations for streaming, live performances, etc. of Guilty Gear music the same as for music in general? I want to show the amazing Guilty Gear music to people who aren't really into fighting games. I was wondering if there are any special rules for Guilty Gear music in particular.
We really appreciate your interest in taking part in the community, including showing the music to others.
We don't have any special rules unique to Guilty Gear. Please refer to the Arc System Works streaming guidelines. While we would like to respond in more detail, we cannot answer individual inquiries, as is outlined in the guidelines.

https://www.arcsystemworks.com/video-policy/
Q.What about options to change the characters' appearances, such as starting the match with Jack-O's mask off or removing Sin's eyepatch?
There may be slight changes to the characters' looks available in the future as well, similar to how you can add Johnny's beard with a secret command. We can't make any promises regarding these specific requests, but we'll make an announcement when we have something ready.
Q.It would be great if you could conduct a survey to give us options for new colors, such as letting us choose from past games' colors or from several options.
Actually, the team members who handle the colors often mention how they'd like to do a survey or original color contest. Keep an eye out, as we may make a post about this when we find the right time to make it happen.
If you have a great idea for a color, make sure you keep it tucked away until then.
Q.Could you reconsider the input method for Deflect Shield? I get it accidentally when trying to perform a standard Throw.
We are considering this input method, as we want to avoid players getting unintended moves when inputting the command. The development team is currently exploring several potential solutions with the hope to address this concern in the future. Thank you for your patience, as it will take some time before this can be implemented.
Tournament/Event Information
Finally, we have updates on tournaments and events.
EVO 2023
The world's largest fighting game event, EVO 2023, held from August 4 to 6, came to a close with the finals on stage in the packed Mandalay Bay arena. TSM|Leffen maintained his calm and collected play-style with Happy Chaos throughout the tournament to defeat NBNHMR, a highly accomplished North American Nagoriyuki player, in finals, earning himself the coveted title of EVO champion!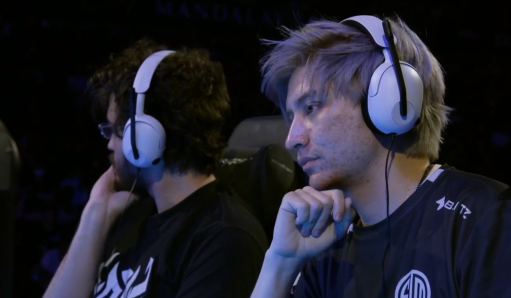 #EVO2023 #GGST Results.
1.@TSM_Leffen🇸🇪
2.@NBNHMR🇺🇸
3.@Daru_ino🇰🇷
4.@UMlSHO🇺🇸
5. @Ismaila702🇸🇳 ,@makotyurarin🇯🇵
Congratulations!#AWT2023 #GuiltyGearStirve pic.twitter.com/C2GOFqz5aR

— ASW_esports ┃Arc World Tour 2023 (@ASWesports) August 7, 2023
This year's EVO surpassed EVO 2022 in numbers, with 2,481 players joining the tournament. From day 1 to the end, each and every match was full of excitement!
Check out the stream archive for a chance to see some rare player matchups.

Archive here
VSFighting
Players gathered in Birmingham, United Kingdom, from August 18 to 20 for VSFighting. After placing 2nd in the earlier qualifier tournament Headstomper, bc|Jonathan Tene took a loss against fellow Zato player Setchi in the first match of Top 8. After fighting his way through the powerful opponents waiting in the Losers bracket, however, Jonathan Tene won a revenge match against Setchi in grand finals to secure the victory!
#VSFXI #GGST results.

1.@jonathan_tene 🇺🇸
2.Setchi 🇬🇧
3.@Wax_Tiger_Pop 🇬🇧
4.@Dejohj 🇬🇧
5.@UMlSHO 🇺🇸, @MrJ3tstream 🇮🇹
7.@RazzoSharp 🇺🇸, SWW_Rycroft 🇬🇧

Congratulations!#AWT2023 pic.twitter.com/bQTo9Rks7i

— ASW_esports ┃Arc World Tour 2023 (@ASWesports) August 20, 2023
Archive here

These next 3 ARC WORLD TOUR 2023 qualifier events were held after the Season 3 update.  
ARCREVO Japan 2023
The Top 8 of ARCREVO Japan 2023 lit up the stage at Tokyo Game Show 2023 on September 24. With top players from all over Japan gathered in one place, the winner of EVO Japan 2023, Gobou, rose up from the Losers bracket using Asuka, not long after his release on May 25 of this year. He faced last year's World Tour champion, JOZ|Mocchi, and his strategic balance between offense and defense brought him the victory!
ARCREVO Japan 2023 #GGST results.
1.@smerinthinae
2.@mugentoubu2
3.@jojorusuki
4.@makotyurarin
5.@consomme0914 @lox_monooki
7.@OK34996097 @black_field2

Congratulations!#ARCREVO #アークレボ #ARCTGS2023 #AWT2023 pic.twitter.com/EJerUDFmjh

— ASW_esports ┃Arc World Tour 2023 (@ASWesports) September 24, 2023
CEOtaku VII
Around the same time on the other side of the world in Florida, USA, CEOtaku VII was underway. When up against UMISHO's Sol, with the momentum of consistent 3-0 victories in the Losers bracket on her side, renowned Leo player FLY|TempestNYC brought out his Sin! Despite UMISHO's quick adaptations, TempestNYC clutched out the victory to earn himself a ticket to the AWT finals!
CEOtaku2023 #GGST results.
1.@Tempest_NYC
2.@UMlSHO
3.@cheryo000
4.@PepperySplash
5.@NBNHMR @Ismaila702
7.@zandowastaken @EC_Bean
Congratulations! #CEOtaku2023 #AWT2023 pic.twitter.com/QvtW7X6eyp

— ASW_esports ┃Arc World Tour 2023 (@ASWesports) September 25, 2023
REV Major 2023
During REV Major 2023, held in the Philippines from September 30 to October 1, top I-No player PAR|Daru_I-No hailing from South Korea triumphed over IBUSHIGIN|Tyurara, who made an excellent showing in ARCREVO Japan 2023 with his Ky and Sin, to place first!
REV Major 2023 #GGST results.
1. @Daru_ino 🇰🇷
2. @makotyurarin 🇯🇵
3. @summit812 🇯🇵
4. Psychrosis 🇵🇭
5. @kedako_faital 🇯🇵 ,@Chaineru 🇵🇭
7. @Ume_MK2 🇯🇵,TLL Sunther 🇵🇭
Thanks for a great match.
Congratulations! #AWT2023 pic.twitter.com/ls16BxfMqG

— ASW_esports ┃Arc World Tour 2023 (@ASWesports) October 1, 2023
Archive here

ARCREVO Japan 2023, CEOtaku VII, and REV Major 2023 were chock full of compelling matches, showing off the major balance changes after the update to Season 3. Give the archives a watch to see the incredible work the players put in so soon after the patch dropped.
ARC WORLD TOUR 2023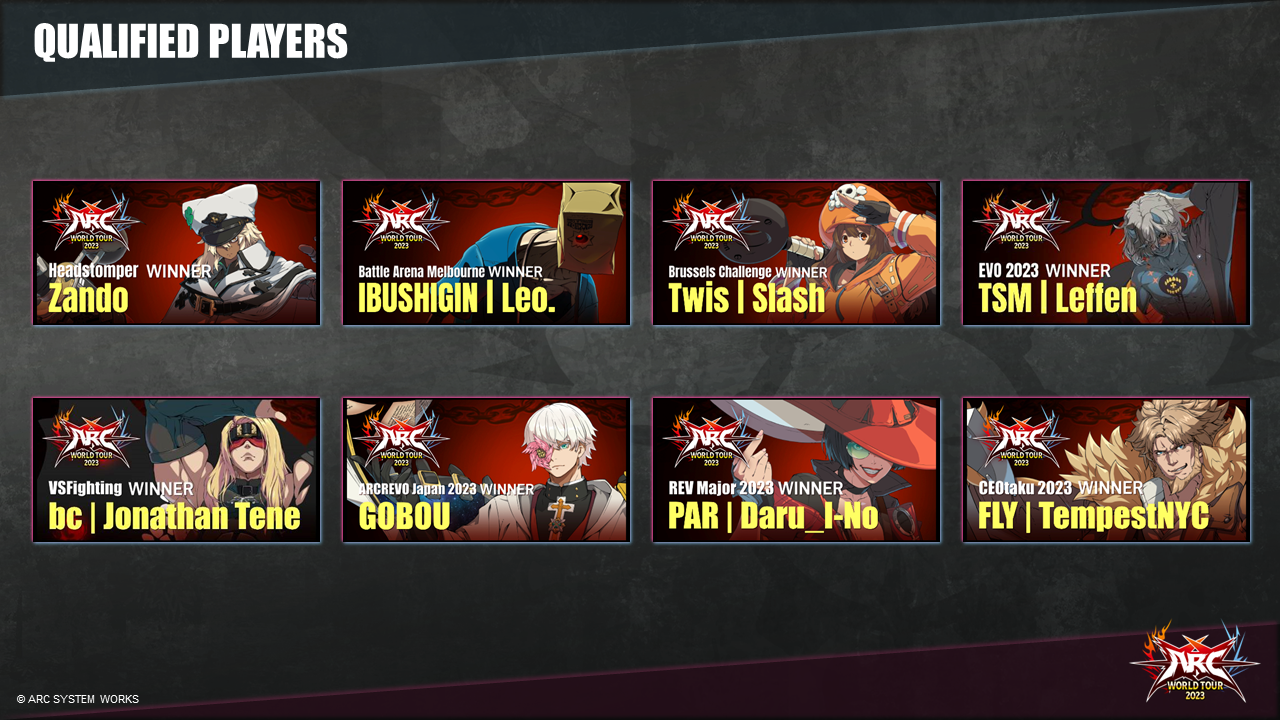 With these tournament results now in, TSM|Leffen, bc|Jonathan Tene, Gobou, FLY|TempestNYC, and PAR|Daru_I-No have earned themselves guaranteed spots in the finals. There are now four qualifier tournaments remaining.

The Tour Point ranking currently stands as follows: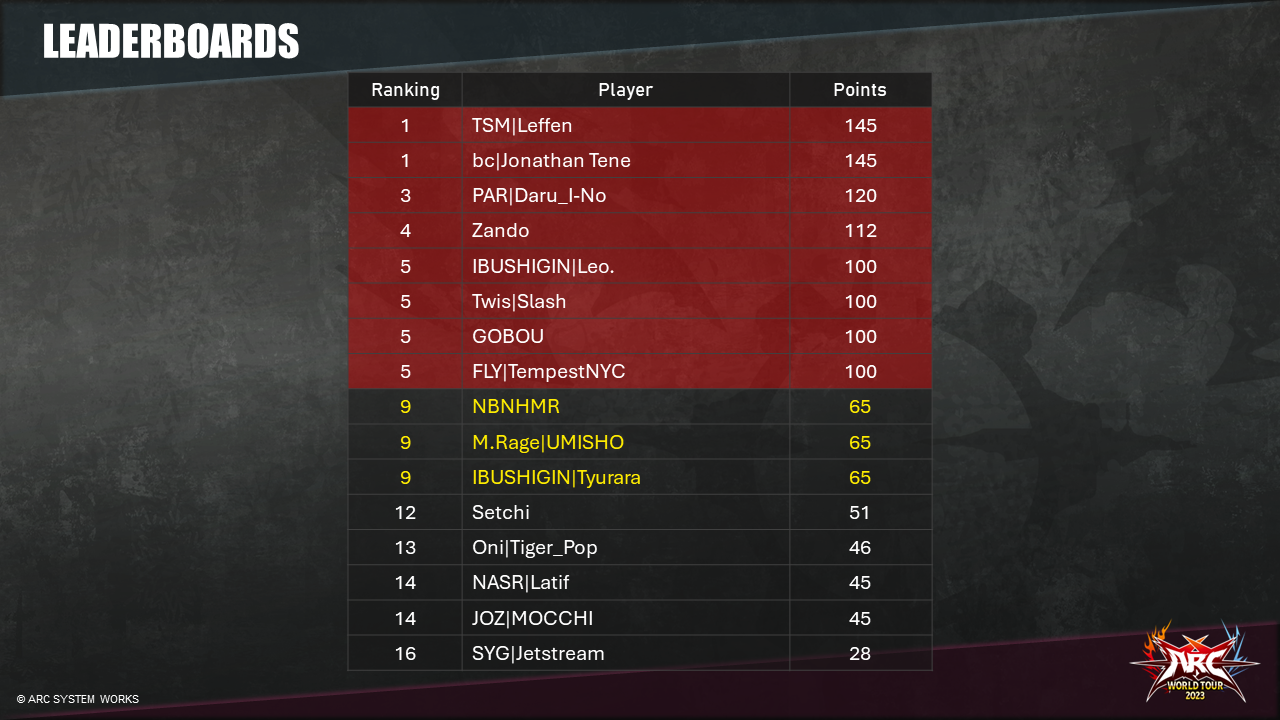 NBNHMR, M.Rage|UMISHO, and IBUSHIGIN|Tyurara are currently in position for the 3 finals slots reserved for the highest ranking players in terms of Tour Points.
There's still a chance for the other contenders, however, as placing second in a qualifier event earns players 45 points, and placing third nets 20 points!

The remaining four qualifier tournaments are: FIGHTERS SPIRIT(November 18 to 19) in Korea, registration for which just opened recently; Battle Coliseum(November 24 to 26) in Brazil; Ultimate Fighting Arena (November 24 to 26) in France; Frosty Faustings(January 25 to 28) in the USA. They're all still accepting entrants, so be sure to join if you're in the area!
That's all for Volume 15 of Developer's Backyard.
Thank you for sticking around until the end.

We're currently accepting submissions for topics you'd like us to discuss in a future Developer's Backyard, as well as questions and comments via the form below.

Check out the official GGST Twitter for the latest info!
https://twitter.com/GUILTYGEAR_PR

For English tweets follow https://twitter.com/ArcSystemWorksU
Developer's Backyard Submission Form
Past Entries