11th volume of "Developer's Backyard"(9/14 Release)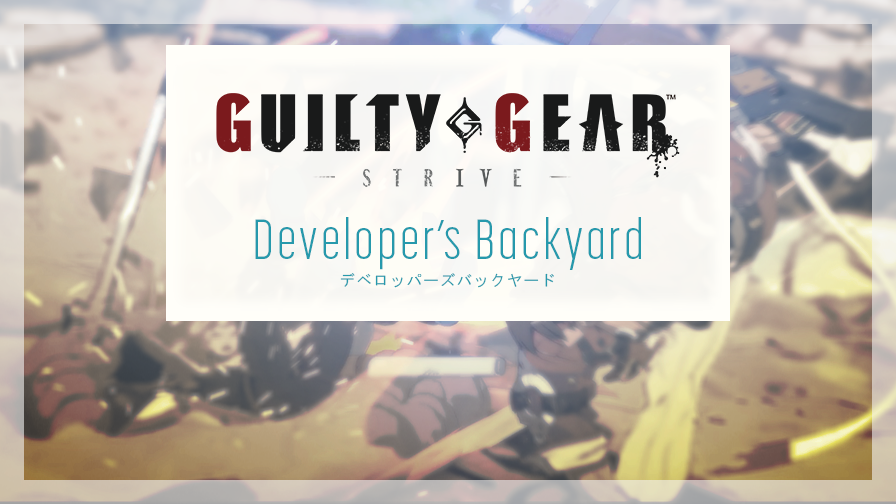 Greetings everyone! This is the director, Katano.

As of this Developer's Backyard volume, the producer Miyauchi will be joining me to provide the latest updates and answers to your questions.

Last month at EVO, the world's largest fighting game event, we shared the development roadmap for Season 2, the new DLC character Bridget, and the Find Your One Way music video.

With all of this exciting news, we have an extra lengthy volume of Developer's Backyard for you.
Bridget Joins the Roster!
Flying Unrestrained with Yo-yo Mastery Free-form Tricky Spinner
Name: Bridget
Height: 158 cm (5'2)
Weight: 50 kg (110 lbs)
Blood Type: O
Birth Date: October 26
Origin: England
Hobbies: Yo-yo, napping
Values: Her parents, her first yo-yo from her father, her teddy bear Roger
Dislikes: Sea cucumber, shiitake mushrooms, bitter herbs, insects, ghosts, muscles
Bridget was born one of two twin sons of a multi-billionaire couple and was given only the best training and tutoring as a child. However, Bridget's upbringing was what one would expect for a daughter of a high-society family instead of a son.

There was a reason for this: Bridget's hometown had a superstitious belief that male twins brought misfortune. The townspeople were so embedded in this belief that they insisted the younger of any set of male twins be put to death or be exiled from the town upon birth. Unable to swallow either of the options, the twins' parents raised Bridget as a daughter.

While Bridget strove to put on a happy front, these efforts only seemed to cause Bridget's parents more pain. Bridget began to think that behaving like a man and bringing home a vast array of riches would prove that the superstitions were unfounded.
Although unsuccessful in capturing Dizzy for her bounty, Bridget showed talent as a bounty hunter and managed to bring home great wealth. This led to the village superstition fading, but it also left Bridget without a goal.
Bridget now works as a bounty hunter while searching for a purpose.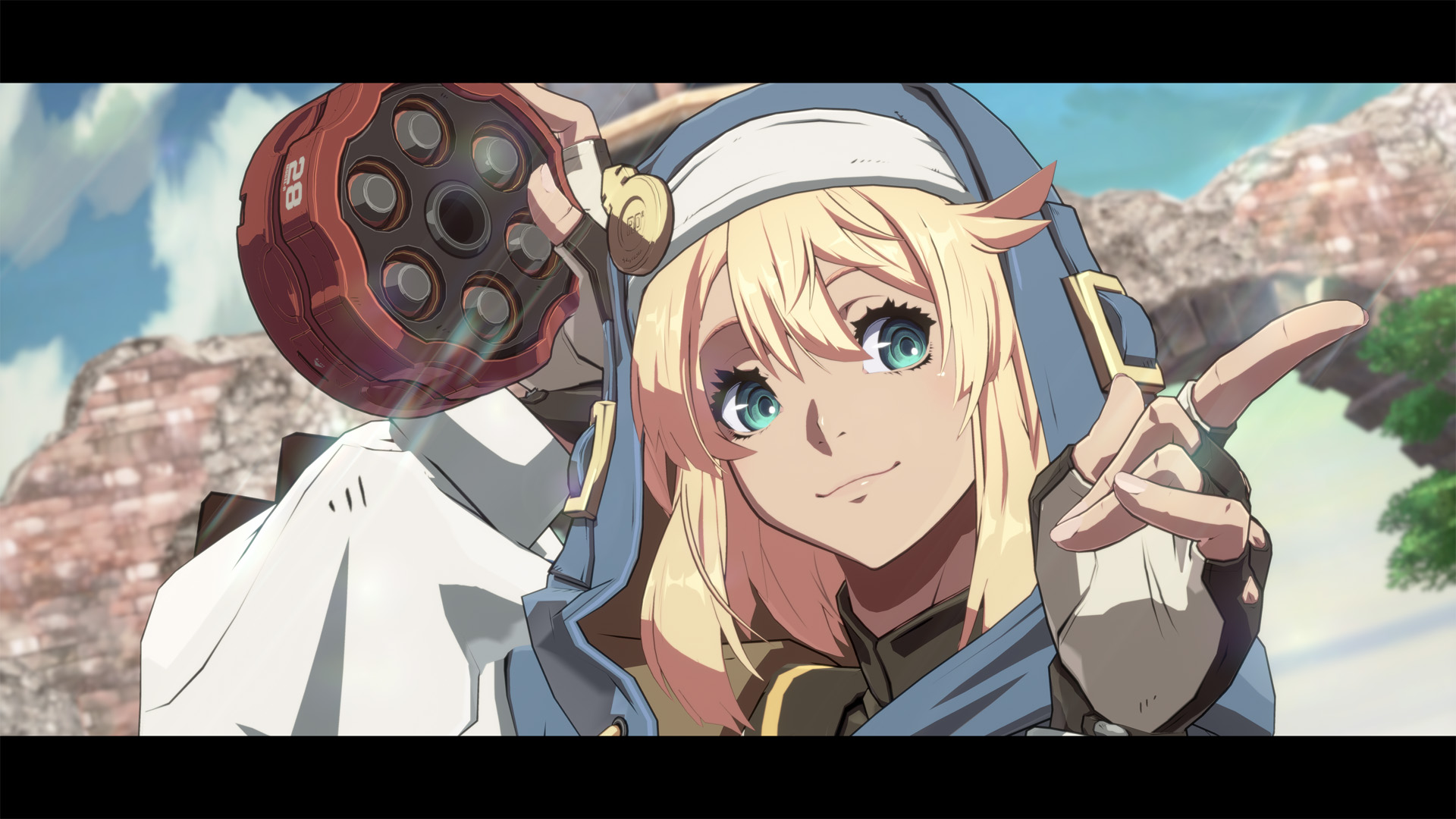 (Katano)
Bridget joined the roster as a DLC character on August 8.
Bridget has been around since Guilty Gear XX, but as with Testament, this is the first time she's been playable in a long while. Bridget has been a highly requested character, placing first in Japan on the GGST Open Beta Test survey.
Our team is pleasantly surprised with the big response to her release.

We've reworked her battle mechanics from the prior games to make her more accessible.

In prior games, pressing the HS button would place Bridget's yo-yo rather than performing an attack, making her different from other characters even on the level of basic controls.
In GGST, her yo-yo placement is performed with special moves using traditional inputs, making it easier for players to pick her up alongside another main character.

In addition, by giving her multi-hit normals and follow-up attacks, we've created a satisfying play-feel focused on her wide arsenal of moves rather than the impact of each attack.
You could say she's the kind of character where it's fun even just pressing buttons.
I'd recommend her for players new to Guilty Gear.

(Ishiwatari)
We've received many inquiries about Bridget's gender. After the events of Bridget's story in Arcade Mode, she self-identifies as a woman.
So, as to whether "he" or "she" would be the correct pronoun for Bridget, the answer would be "she."

As mentioned in her character profile, Bridget was born as the younger twin son and then raised as a girl by her parents to protect her from a village superstition.
Despite their intentions to protect Bridget, it pained her parents to do so as they felt they were forcing her to live a certain way.
Bridget, realizing this, attempted to bring wealth to the village while behaving like a man, thus overturning the village superstition, as a way to free her parents from their guilt.
As a result, the superstition faded, and nothing remained to restrict how both Bridget and her parents lived.

After this, Bridget tries living as a man, but it doesn't feel right.
This is where the Arcade Mode story begins. After her exchanges with Goldlewis and Ky, Bridget faces parts of herself she has tried to ignore, and makes a big decision for herself.
I hope that all of you will watch over her path after her courageous choice to stay true to her own feelings.

(Katano)
By the way, although the difficulty and story dialogue of Arcade Mode change depending on your match results, this doesn't change the main plot, nor are there alternate endings such as "good" or "bad" endings. The same goes for other characters' Arcade stories as well. In general, these variations show other aspects of the characters.
More than One Million Units Total Sold Worldwide!
(Miyauchi)
Thanks to your support, Guilty Gear -Strive- has sold over one million total units worldwide!
This is an incredible milestone, as this is a first not only for the Guilty Gear series, but for games we've published at Arc System Works. We truly appreciate all of the players, fans, tournament organizers, and everyone.

Here's a special illustration from Kenta Asano, a 2D artist on the Guilty Gear team, to celebrate!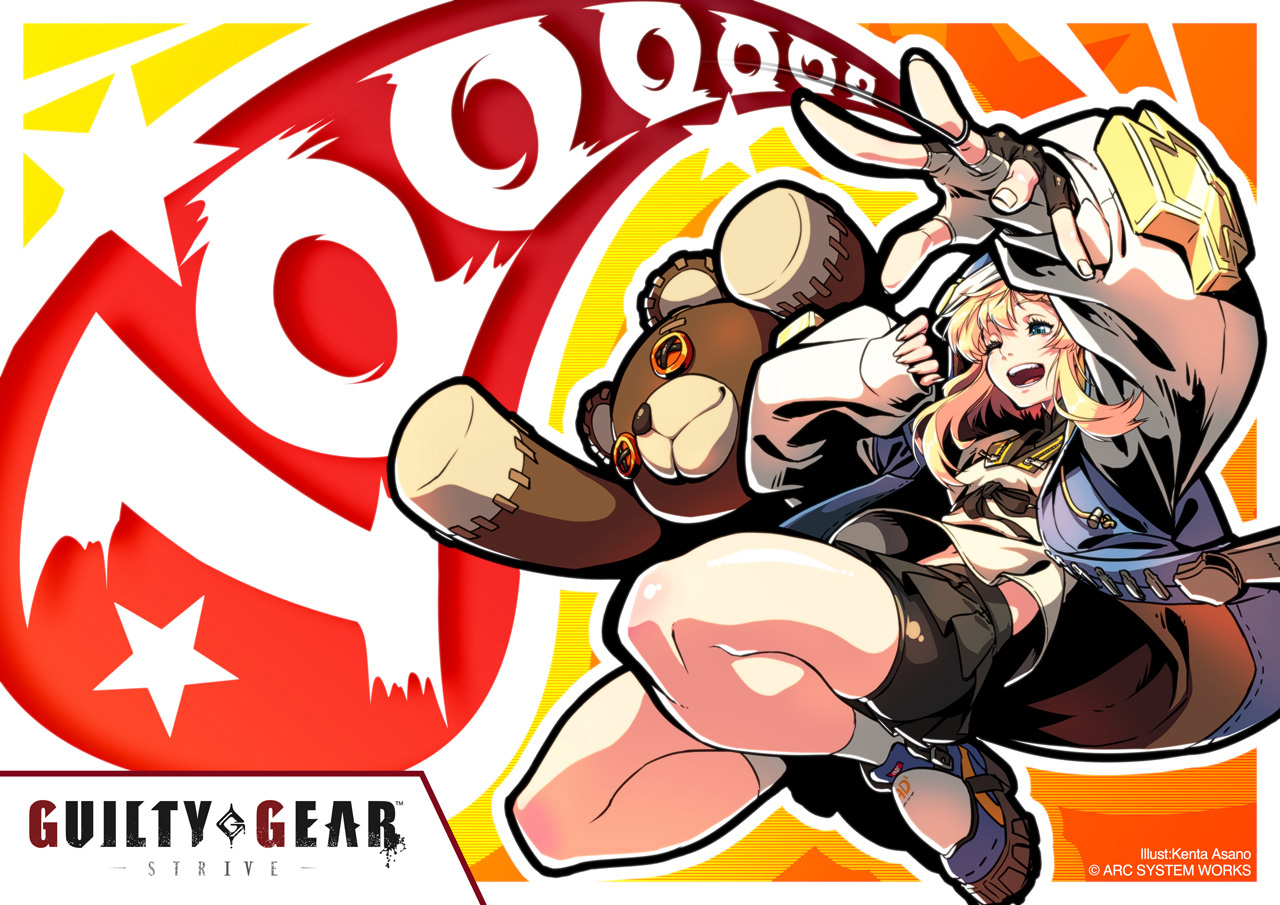 We hope to answer everyone's expectations with many future updates to provide a fun Guilty Gear experience. Thank you for your continued support of the Guilty Gear series!
Presenting the One Year Anniversary Music Video!
In celebration of the one year anniversary of Guilty Gear -Strive-'s release, we've put out a music video created by Sanzigen Inc., an animation studio known for their impressive 3D CG animation, featuring Sol Badguy's theme, Find Your One Way.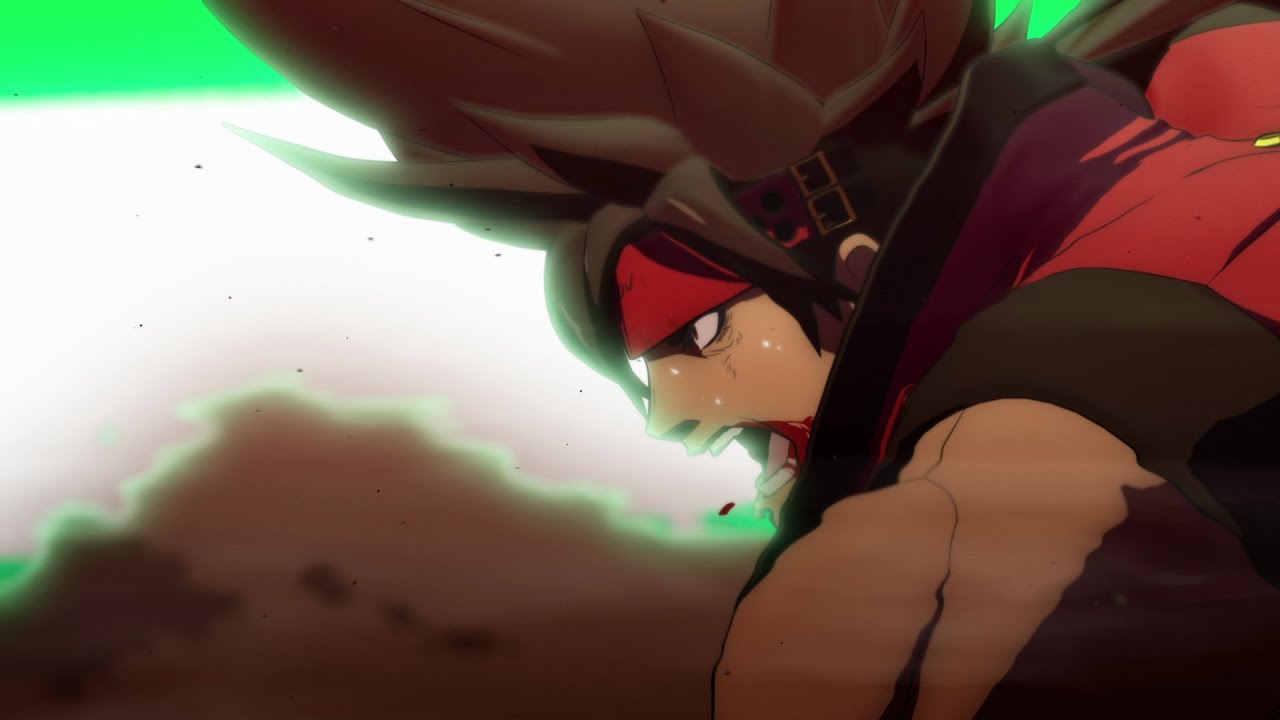 The video shows the lore spanning over 20 years of the Guilty Gear series, following Sol's life up until Xrd, then making the connection to GGST.

The vocal songs featured in-game, including Find Your One Way from this music video, are available on various music streaming services. Be sure to give them a listen!

GUILTY GEAR STRIVE ORIGINAL SOUNDTRACK Necessary Discrepancy (1)
GUILTY GEAR STRIVE ORIGINAL SOUNDTRACK Necessary Discrepancy (2)
August Game Update News
(Katano) The August 8 update to Ver. 1.21 reduced input lag for the PS5 version and shortened the server connection time on startup for the Steam version, in addition to adding Bridget.

The input lag reduction for the PS5 version has now made input lag equivalent to the PS4 Pro version. If you've been playing the PS4 version on a PS5, this would be a great time to switch to the PS5 version.

Although the amount of time reduction for the server connection when launching the Steam version will vary depending on your location and network environment, it should be shortened about 30 to 40% compared to the previous version.
We plan to continue working on further optimization going forward.
Season 2 Roadmap Revealed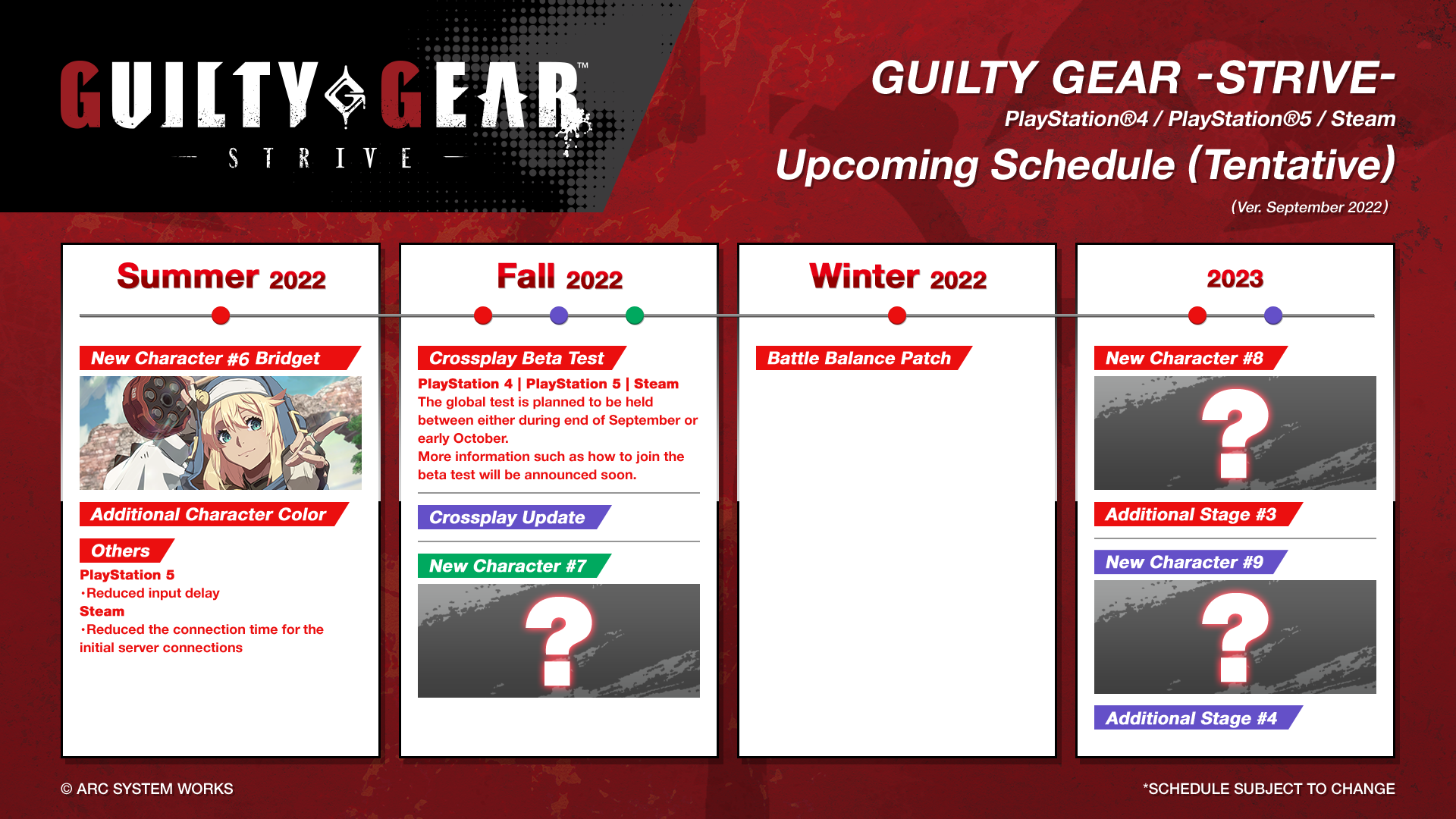 (Miyauchi)
We shared a (tentative) roadmap for Season 2 during our panel at EVO on August 7.
The Summer update on August 8 released an update to Ver. 1.21, including the addition of DLC Character #6, Bridget. An update for the PS5 version of the PS Tournament feature is also on the way soon.

The Additional Color Pack #2 was announced in a way that made it seem like additional colors for every character, when it only includes additional colors for the Season 2 characters. I apologize for the confusion.

If you're wondering about plans for new colors in Season 2… Actually, we're working on colors like these: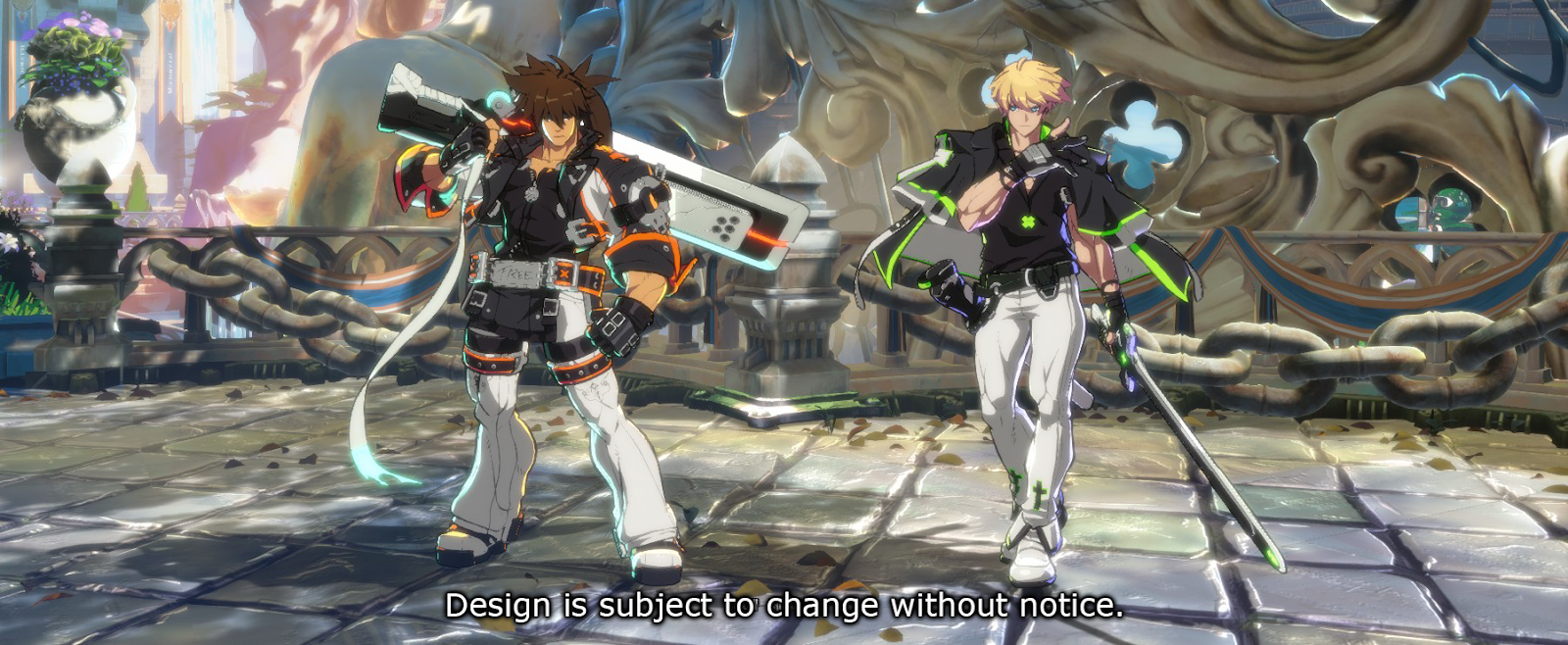 These are still under development and subject to change, but we're working on a series of colors inspired by gaming and eSports. Sol and Ky are shown in this image using different color options. I'd love to show you the other characters, but please hang on while we get them ready for release.

I hope to share plans for future updates like this as much as possible.
Sometimes, for promotional or development related reasons, we may not be able to announce specific dates until shortly before release, or there could be last-minute changes. Thank you for your understanding.
Crossplay Beta Test Coming in September
(Miyauchi)
Although we announced the Crossplay Beta Test for mid-September, due to unexpected delays in getting the game client for the test ready, we are currently aiming for late September into early October.
Details about the test schedule and how to join will be announced later via the official website.

We're working on making it so that anyone can join for free, even if they don't own a copy of the game. This would be a great chance to invite a friend to play with you! We'd like for as many players as possible to join the test, so your participation would be greatly appreciated.

Crossplay will officially release once final adjustments are completed after the beta test. If all goes well, it should be released during Autumn 2022.
We'll provide updates on progress towards the update implementing crossplay in the Developer's Backyard volume after the beta test concludes.
Season 2 Survey Results
We have the results of the Season 2 Survey held from July 11 to July 24!
We heard from over 50,000 players, the highest number we've seen yet.
These are the same results discussed during EVO Lounge Live Day 1.
Which playable character do you like the most in Guilty Gear -Strive-?


Baiken took the crown as the most popular of the playable characters. She was well liked before joining the roster, too. It looks like the additional story in Season Pass 1 won her even more votes!
Which other playable character(s) would you like to see in Guilty Gear -Strive- in the future?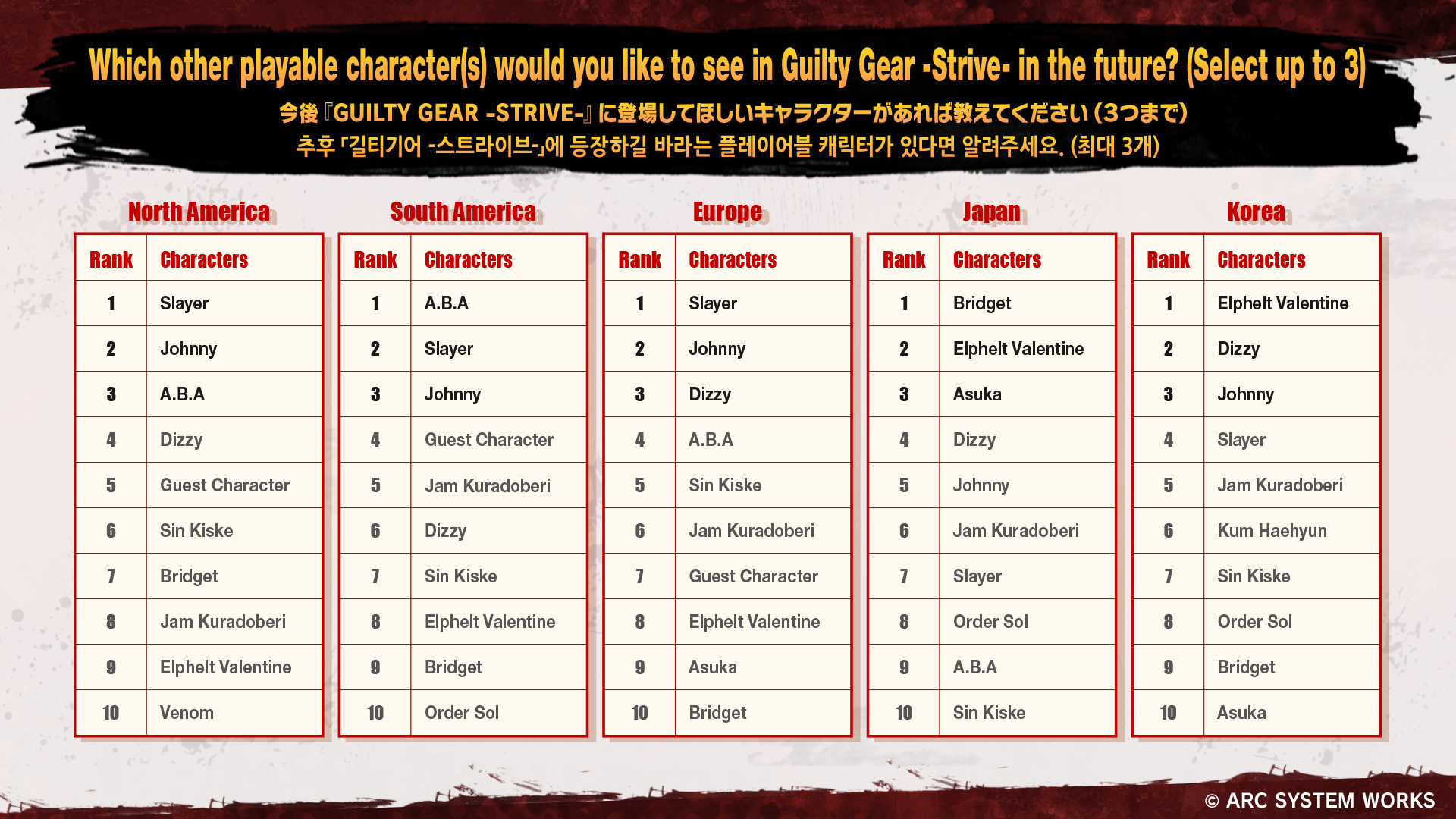 These are the rankings for each region's most requested playable characters.

Due to differences in the format from the last survey, it's hard to compare directly, but Bridget remains number one in Japan. Bridget moved up in the ranks for other regions, as well. The reception to the DLC release goes to show Bridget's international popularity, too!
Players familiar with earlier Guilty Gear games


Thanks to everyone's support for the Guilty Gear series, it would seem that 16.23% of respondents got into the series starting with GGST! We'll keep working to make GG fun for everyone, so stick with us!
What would you like to see in future updates for the game?


We received the most requests for additional special moves.
We feel that the two main reasons for this would be that players want to see new options for the characters, and that they're growing bored with the current moves.
To be honest, after release we've prioritized working on the additional characters, so I can't make any promises on a timeline, but the development team considers this valuable feedback.
As for the second ranked request for improvements to online matchmaking, we've heard your requests for fixes to the connection errors in the online lobby and player match rooms.
Although we've been working on such improvements since before release, we haven't been able to completely resolve this as it requires changes to the fundamental system. I apologize for the trouble to you all.
I'll go into more detail later, but we plan to make major changes to the network structure when implementing cross-platform play. We intend to test these changes as well during the beta test.
Q&A
*Please note that some questions may be altered for publication.

In this corner, we'd like to recap the questions we answered during our recent EVO panel, while also addressing several new questions.
Q.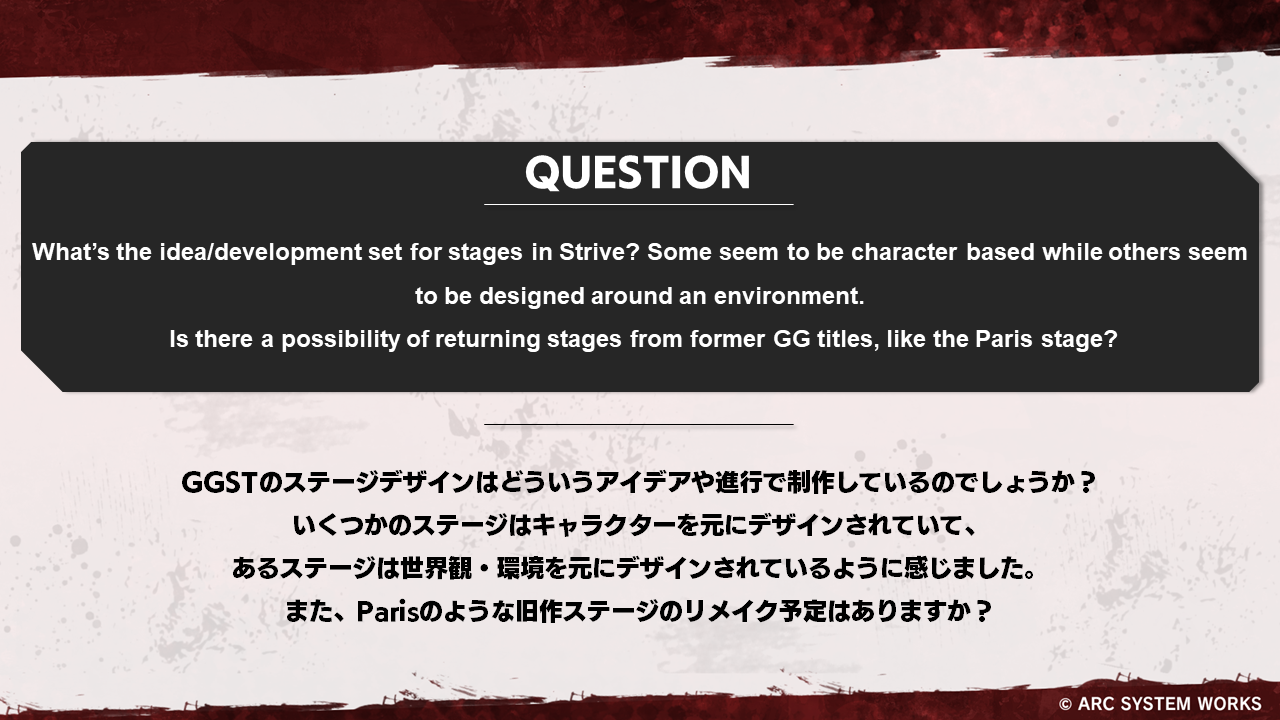 (General Director Ishiwatari)
One must for stage design in GGST is consideration of the corner transitions, so we come up with concepts of them as circular areas that can loop. At first, we planned to create 6 areas for each stage, but due to the additional work required, we settled on having 3 areas on average with some special exceptions.

We then work on the design while discussing with the background team about what layout would work best for those 3 stage areas, and potential interesting ways for the scenery to change.

(Art Director Sakamura)
The White House Reborn stage was especially challenging, as it has 6 areas, with sequences of the building being destroyed during certain area transitions.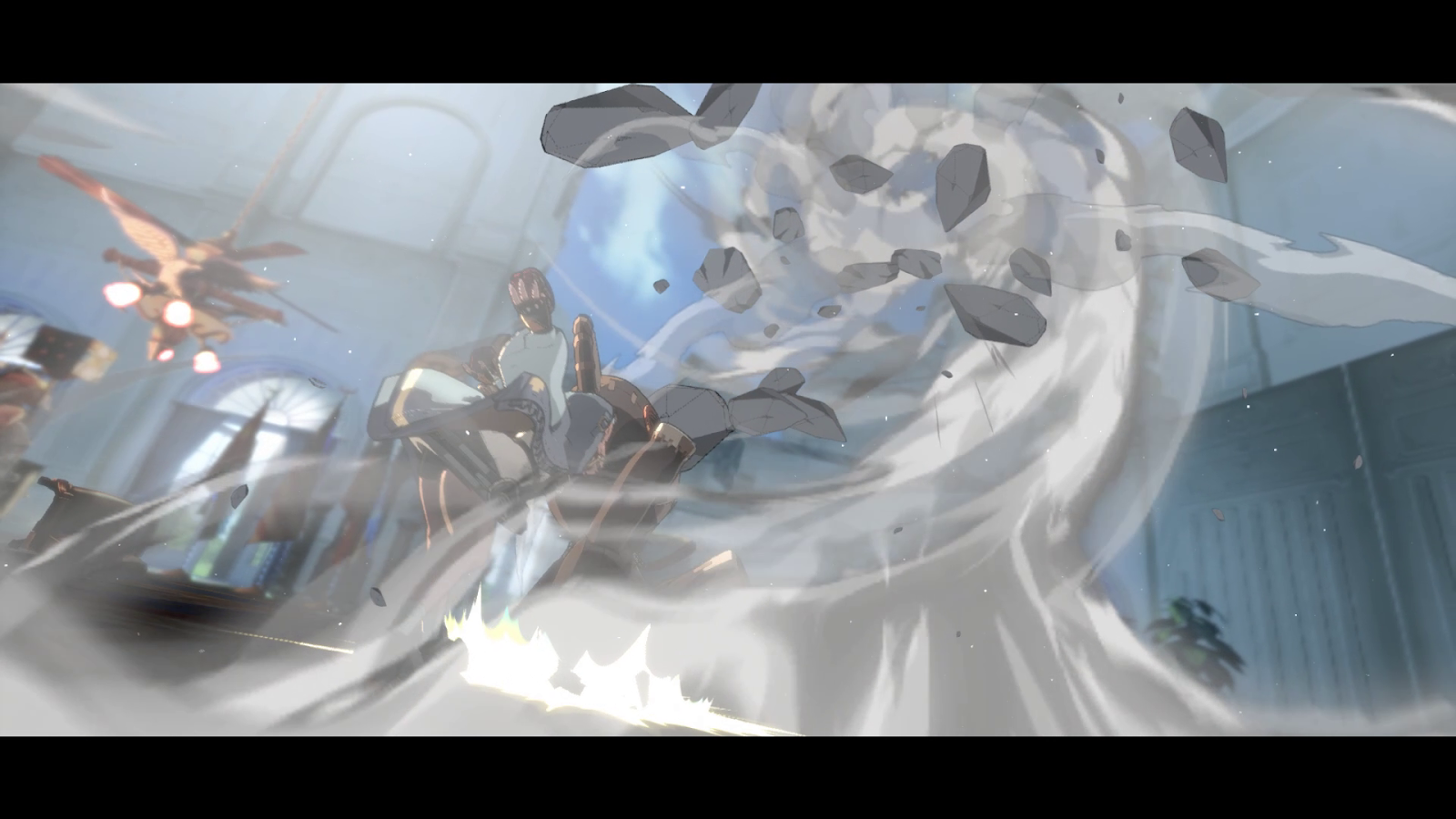 As for remakes of stages from prior games, while we don't have any planned at the moment, seeing this question made me realize I'd like to give it a try. If we do, rather than simply remaking the stages as they were, I'd like to create evolutions of them after considering how they would have changed in the GGST timeline.
Q.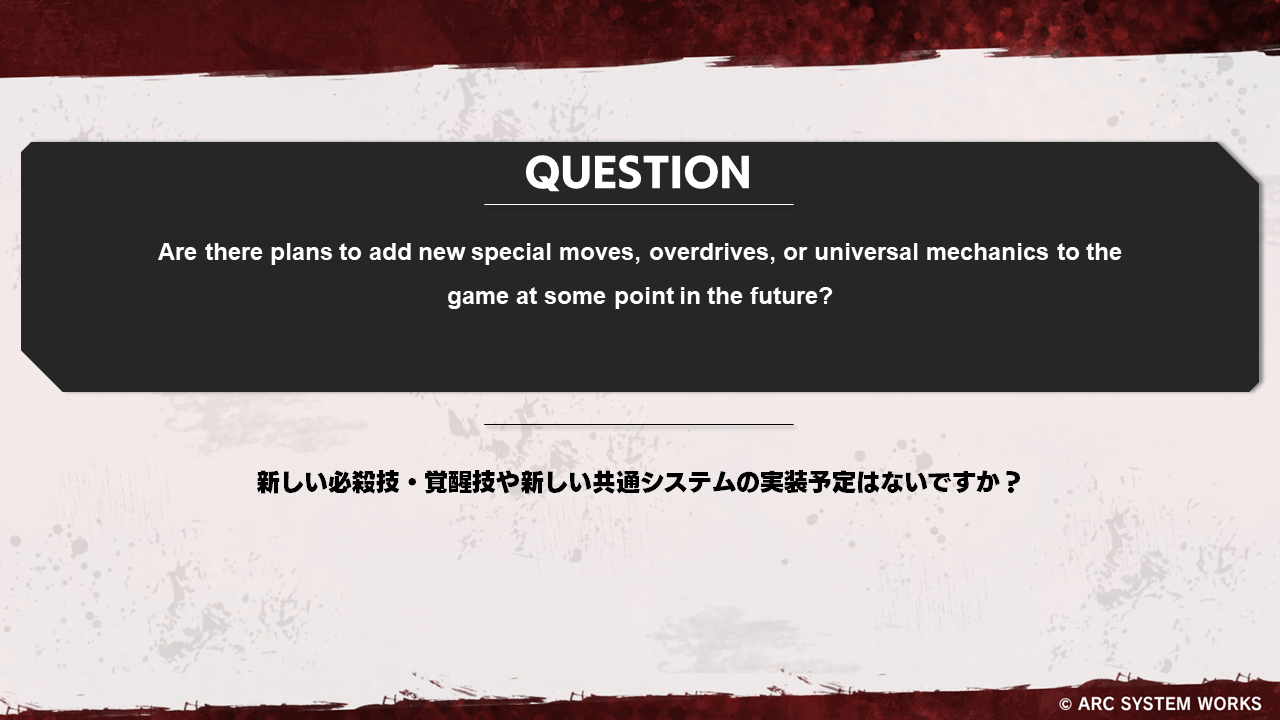 (Ishiwatari)
I can't comment about any plans, but I suppose the fact that I can't comment on it means we're thinking about doing it at some point.

(Katano)
I'd definitely like to. Of course, the schedule and other factors need to be taken into consideration, but somewhere along the line I would really like to provide new experiences for the players.
Q.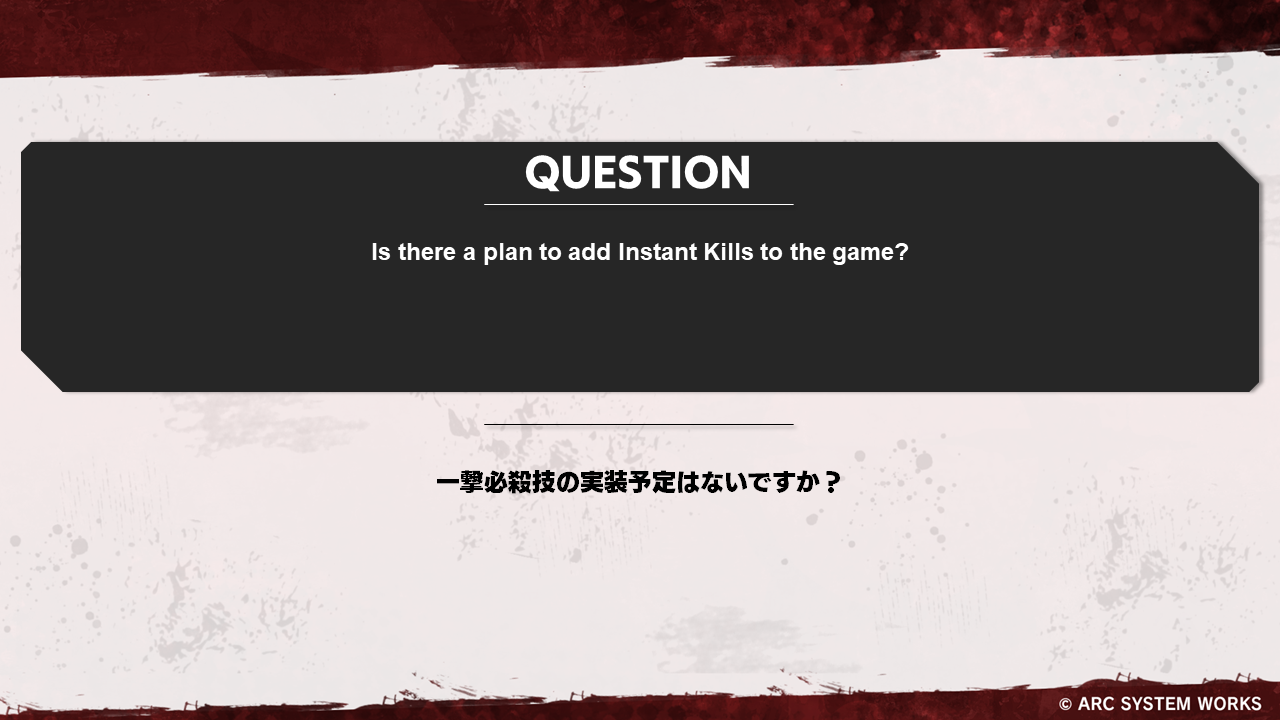 (Katano)
To tell the truth, we originally intended to have Instant Kills in GGST. We had to proceed without them due to concerns with the development schedule.
We've heard everyone's requests for Instant Kills with higher quality than the prior games, and we feel the same way. Although I can't make any definitive statements on any plans, we would like to answer your expectations. Thank you for your continued support.
Q.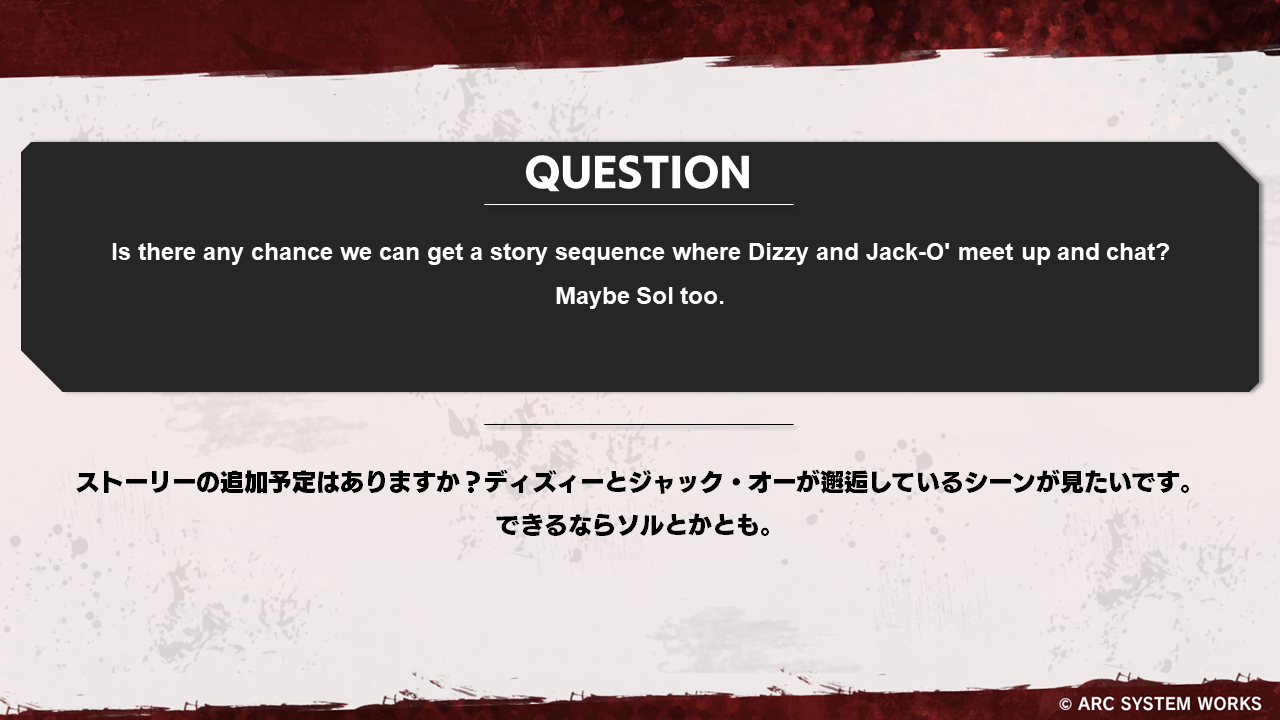 (Ishiwatari)
In GGST, for many characters their reason to fight has more or less settled down, but while it doesn't exist in writing, I have it in my mind how their futures will go.

By the way, I have one more big event in mind for Jack-O' and Sol's futures.

(Brand Manager Yamanaka)
While I'd like to present the world Ishiwatari has in mind to the players through the games, I feel there are a variety of other ways to expand the world of Guilty Gear. As the brand manager, I'd like to explore such developments, so do look forward to it.
Q.
You must get a lot of questions about this. Is there a plan to change how the lobby or matchmaking works during Season 2?
(Katano)
We plan on making changes to the fundamental structure of the network along with the implementation of cross-platform play. While this will not impact the visuals or controls, we expect it will reduce connection errors during matching.

We are also making big changes to the rules for updates to your recommended floor. The current system prevents players from falling below a set floor even if they lose matches by looking at certain input techniques and their results upon reaching the floor, etc. As a result, there is a concentration of players on the 10th and 9th floors, meaning matches on the upper floors can have a disparity in skill level between players. Although this rule change is a provisional measure, by easing the restriction on the minimum floor, those playing on their recommended floor should be better able to match with other players at their skill level.

We'll be testing these changes during the crossplay beta test, so everyone's participation would be greatly appreciated.
Q.
Do you plan on making more technical DLC characters in the future, or will they all be less complex, easy to play characters?
(Katano)
We aim to strike a balance between technical and standard characters as we make additions to the cast.
Many of the earlier Season 1 characters had unique inputs and complex mechanics, but we had in mind a balance with consideration that many of the base game characters are more on the standard side.
Tournament/Event Updates


(Miyauchi)
Finally, we have updates on tournaments and events. First of all, on the ARC WORLD TOUR 2022 front, the results are in for the qualifier events EVO 2022 and VSFighting held in August.

With more than 2,100 participants, GGST had the most entries of all titles in EVO 2022. The Las Vegas event's intense battles spanned all three days. After a long fight, Razer|UMISHO from the USA won, securing an invitation to the ARC WORLD TOUR 2022 finals! Congratulations! UMISHO used Happy Chaos to break through the winners bracket with an incredible 12 consecutive victories!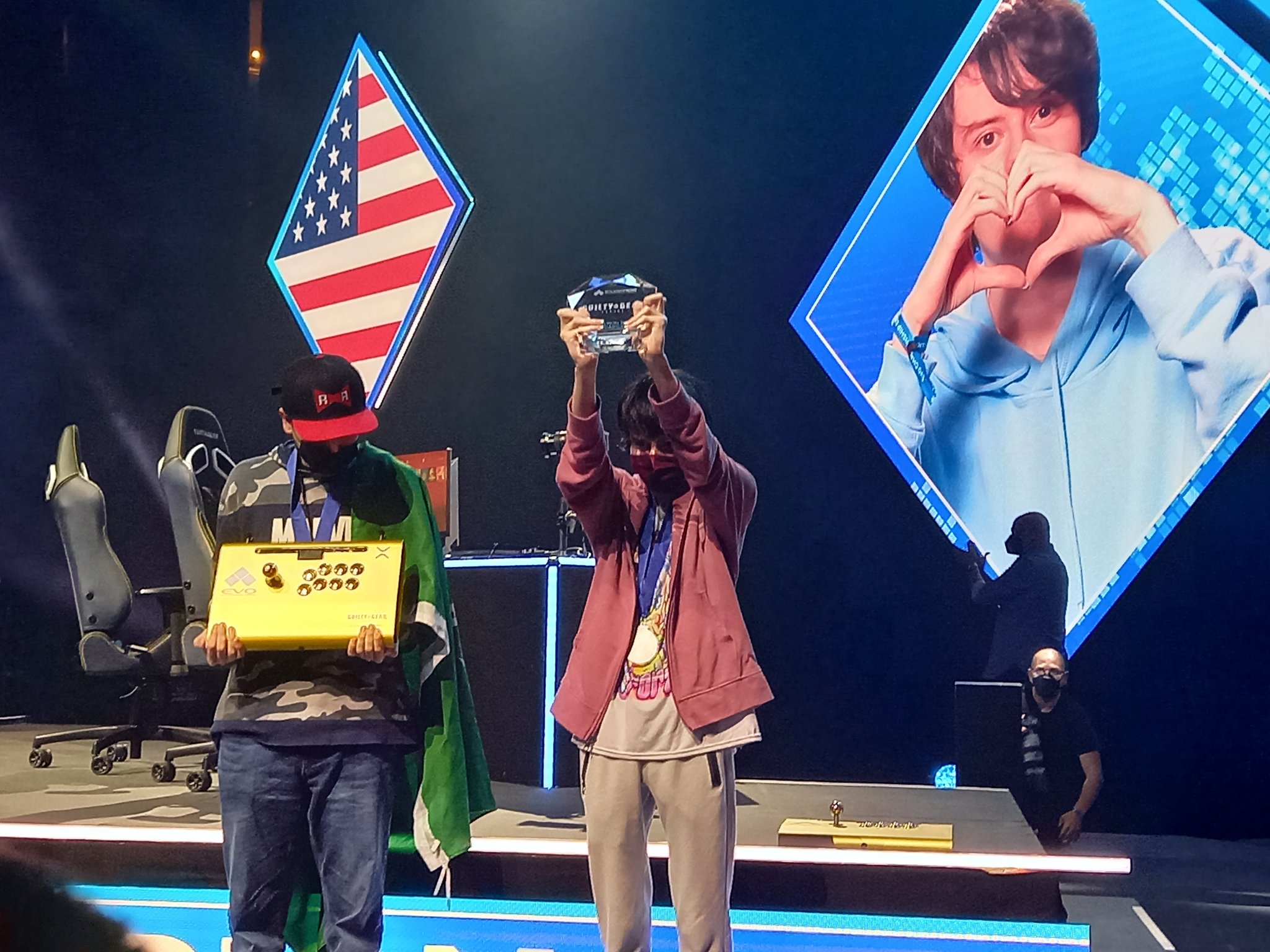 The top 8 results for EVO 2022 are as follows:
#EVO2022 #GGST Results

1. 🇺🇸@UMISHO
2. 🇸🇦@SlashoSlash
3. 🇸🇪@TSM_Leffen
4. 🇺🇸@hotashis
5. 🇨🇦@PepperySplash, 🇰🇷@Daru_ino
7. 🇺🇸@EC_Bean,🇺🇸@Tempest_NYC

Thank you for a great fight!
Congratulations!#AWT2022

— ASW_esports ┃Arc World Tour 2022 (@ASWesports) August 8, 2022
Next up, Oplon|Skyll from France made it through the tough competition at VSFighting in the UK from the winners bracket, using both Sol and Ky! Congratulations!
The top 8 results for VSFighting are as follows:
#VSFX #GGST Results.
1. @Skyll_13 🇫🇷
2. @zandowastaken 🇮🇱
3. Setchi 🇬🇧
4.@Wax_Tiger_Pop🇬🇧
5. @TSM_Leffen 🇸🇪
5. @MysticSmash 🇬🇧
7. @PunkDaGod🇺🇸
7. @latif_7 🇸🇦
SKYLL has qualified for the finals of AWT2022.
Thank you for a great fight!
Congratulations!#AWT2022 pic.twitter.com/nKx3qcFKzb

— ASW_esports ┃Arc World Tour 2022 (@ASWesports) August 21, 2022
Next we have updates on upcoming ARC WORLD TOUR 2022 events. From mid-September to early October, there are 3 consecutive weeks of qualifying events from REV Major in the Philippines, CEOtaku in Florida, USA, to The MIXUP in France. We're hoping to enjoy the event streams together with all of you, too!

Follow the Arc System Works Official eSports Twitter account for the latest news about ARC WORLD TOUR 2022!

Finally, during EVO 2022, EVO Japan 2023 was announced for March 31, 2023. Guilty Gear -Strive- will be featured as a main title. We're excited for the event making a return after 3 years.
That's all for this extra lengthy volume of Developer's Backyard.
Thank you for reading to the end.
We hope to have the next Developer's Backyard out after the crossplay beta test.

We're currently accepting submissions for topics you'd like us to discuss in a future Developer's Backyard as well as questions and comments via the form below.

Check out the official GGST Twitter for the latest info!
https://twitter.com/GUILTYGEAR_PR

For English tweets follow https://twitter.com/ArcSystemWorksU
Developer's Backyard Submission Form
Past Entries