8th volume of "Developer's Backyard"(10/8 Release)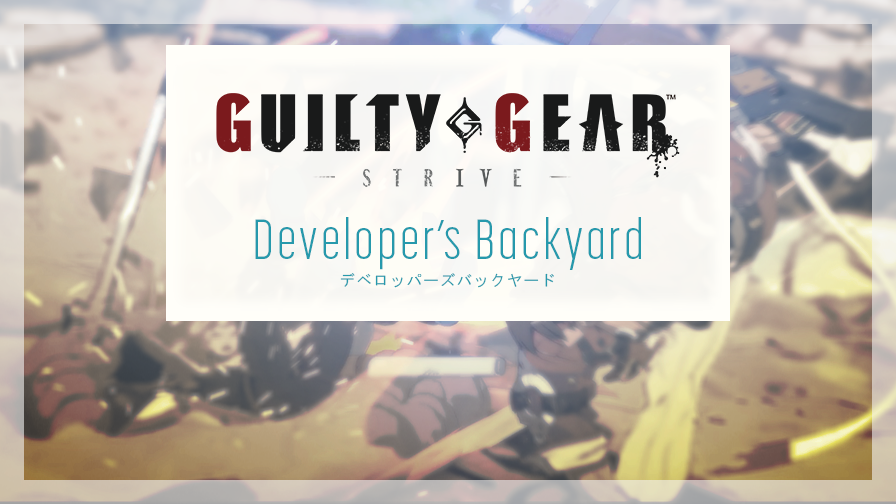 Welcome to another volume of "Developer's Backyard."
This is Katano from the development team at Arc System Works.

In this volume of Developer's Backyard, I'd like to introduce Jack-O' and share some information about the update scheduled in October. Be sure to read until the end.
Introducing Jack-O'
Dominates the Battle with an Assembly of Servants--Hyper Energetic Marshal Fighter
Jack-O'
Name: Jack-O'
Voice: Hiromi Igarashi (JPN) / Nicole Tompkins (ENG) / Ah-yeong Yoon (KR)
Height: 165 cm / 5'5
Weight: 45 kg / 99 lbs
Blood Type: O
Birth Date: December 13 (self-determined)
Origin: Unknown
Hobby: Coming up with new ideas
Values: Candy, memories, novel ideas
Dislikes: Scientific ideas
Jack-O' joined the roster as a DLC character in the update in August.
Although she tries her best to be cool and collected in her demeanor, she tends to act child-like when her emotions get the best of her.
That child-like behavior is closer to her natural self, but she acts shy when her true nature peaks through.

Jack-O' also makes an appearance in the Story Mode, and has a somewhat complicated backstory.

She was originally an artificial life-form created with a specific purpose in mind, but the soul of Sol's past love Aria resides within her.
This means that Jack-O' has Aria's memories, but her personality is not the same, as she has her own unique identity.
See the Story Modes of the previous title Guilty Gear Xrd -Revelator- and GGST for more details.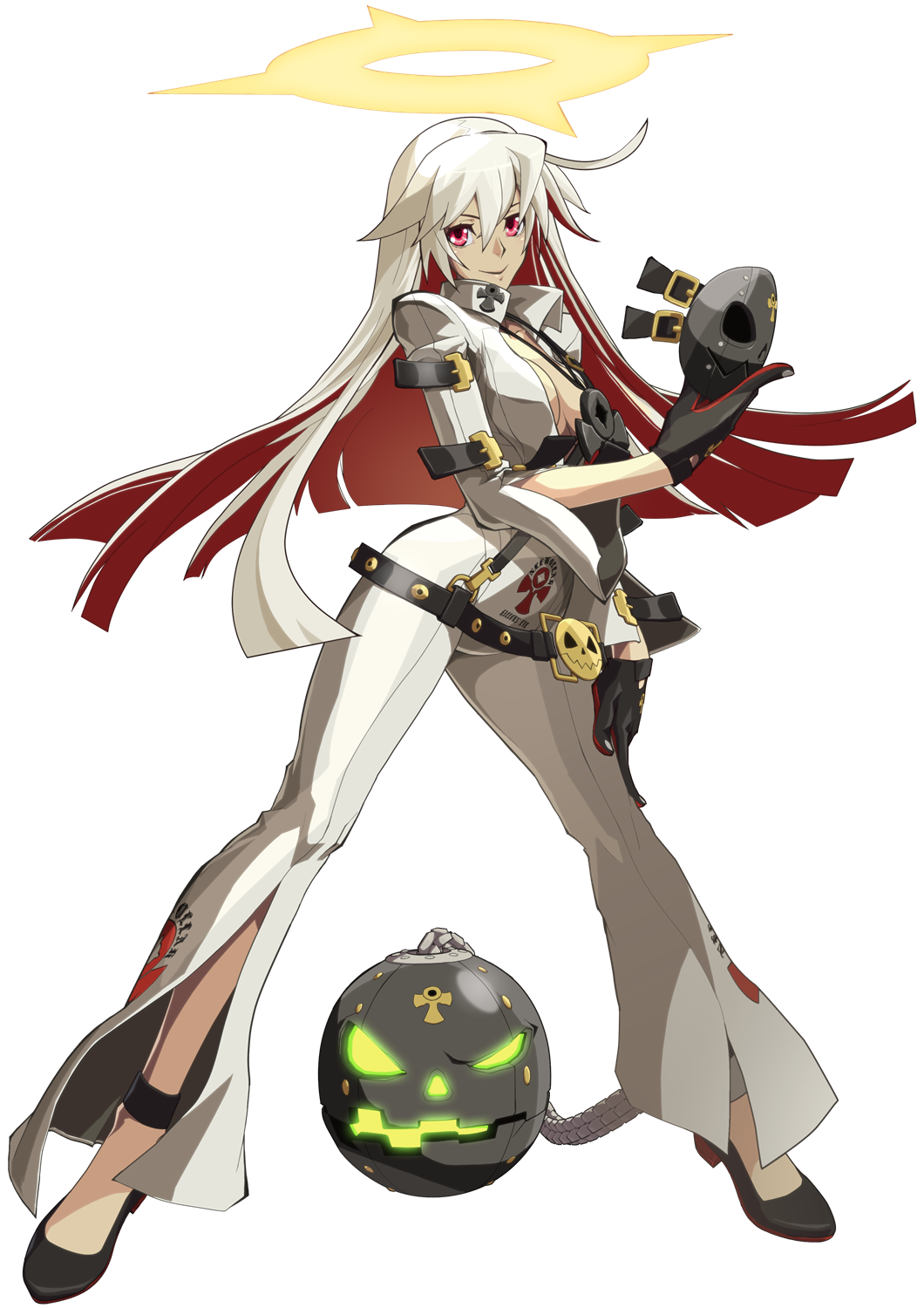 The story mode of Guilty Gear Xrd -Revelator- is now available on YouTube.
Since Aria was last alive and living normally over 100 years in the past, Jack-O's mannerisms and hobbies are sometimes a bit off from modern taste.

When it comes to battle, Jack-O' fights with companions known as Servants. She's what we call a "puppet character."
She can lift up and throw the Servants, or even use them as a projectile by hitting a Servant with an attack, sending them flying at the opponent.

By sending "Attack" and "Defense" commands to the Servants, she has access to strong strings and setplay as well as neutral options.

She can fight on her own as well due to her practical normal moves and standard hit special moves, but working in sync with her Servants is required to bring out her true strength.

The trajectory the Servants fly changes depending on the type of attack you hit them with, and it's even possible to cancel the attack that hit them, making for a wide variety of options involving moves sending commands to the Servants.
As the level of play gets more advanced, she requires precise execution and decision making, but also allows for an exceptional level of freedom of expression for the player.

Zato-1 is also a puppet character, but his play style emphasizes moving together with his "puppet," whereas Jack-O' relies on controlling the battlefield.

She wears a mask during battle, but you can fight without it by either holding the button down after performing a Taunt, or by holding the D button after winning a round.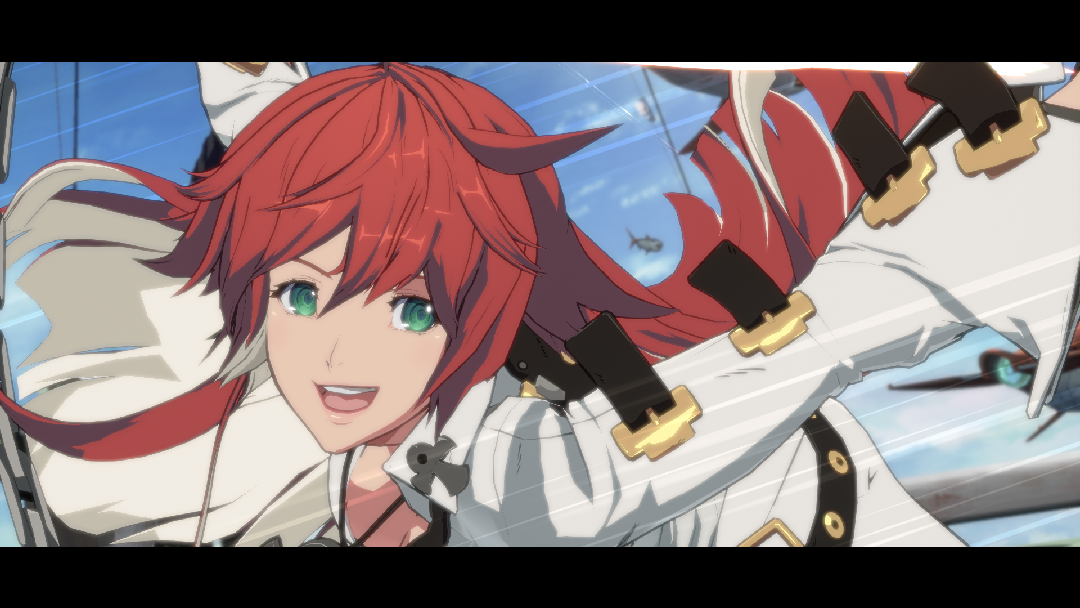 We have received many requests from players to make it possible to remove the mask right at the beginning of a match. Please understand that this isn't possible currently.
◆Timeline of Arcade Mode and Story Mode Events
GGST's Arcade Mode includes short episodes for each character. In Jack-O's case, this episode shows her emotional state after the main Story Mode events.

Aside from Jack-O', many of the characters' episodes in the Arcade Mode also take place after the events of the Story Mode.
Some also include past episodes that aren't told in the Story or Glossary. Due to GGST's nature as a fighting game, the characters may show some inconsistencies with the timeline...

If you haven't checked out Arcade Mode yet, be sure to give it a try.
October Game Update
As we've announced previously, the October game update is planned for October 15 (Friday).

In the previous update we adjusted the character balance without changing the overall game mechanics.
This time, however, we will be adjusting the overall mechanics and game rules in addition to character balance.

To begin with a partial discussion of the changes to game mechanics, we have revised the qualities of Faultless Defense, extended overall input buffer time, and increased the time window for throw clashes.

For changes across characters, we have revised the start-up time for their fastest normals, the way counters work for aerial normals, and increased the number of moves that can be canceled into jump or air dash.

The details of the changes made in this update patch will be released soon, so keep an eye out.

Although this update will only adjust the game balance, the team is working hard on the next character at the moment, so please wait for the next announcement.
Non-battle In-game Issues
Aside from changes to the battles, this update also reduces the time required to authenticate the online server when launching the game.
Our tests in North America have confirmed that the update reduces connection time significantly.

This update also includes fixes and improvements for other issues, as well as new features.
We will continue to strive to improve the game, and we appreciate your continued support.

We plan to include improvements to the Player Match system, as requested by players, in a later update.


ARCREVO and Vocal Soundtrack Streaming
Arc System Works' large-scale official tournament series ARCREVO will be held again this year. GGST will be the event title, with tournaments held in Japan/Korea, North America, and EMEA regions so that fans from all over the world can join. Challenge yourself by joining the competition!

For details regarding entry, terms, and regulations, visit the ARCREVO 2021 Official Site and bookmark the page for your region, as they will be updated soon with more details.

GUILTY GEAR -STRIVE- ORIGINAL SOUND TRACK VOL.1, containing the vocal tracks in GGST, is now available streaming on major music streaming services. With your support, we were able to rank highly in several regions across the world. See this page for more information.
You can listen to the songs on major streaming services such as Spotify, Apple Music, and YouTube Music, so enjoy the game's soundtrack where it's easiest for you.

By the way, I like Leo's theme Hellfire, and I listen to it all the time. The lyrics are quite heavy, but I think they express a different side to Leo's character.
That's all for Volume 8 of Developer's Backyard.
Thank you for reading to the end.

We're currently accepting submissions for topics you'd like for us to discuss in a future Developer's Backyard as well as questions and comments via the form below.

https://business.form-mailer.jp/fms/65905bfb122872

*Please note that we cannot answer inquiries regarding playable characters that have yet to be announced.
Also, please be aware that we cannot answer every submission.

Check out the official GGST Twitter for the latest info!
https://twitter.com/GUILTYGEAR_PR

For English tweets follow https://twitter.com/ArcSystemWorksU
Developer's Backyard Opinion and Request Form
Past Entires