Announcing the Reveal Trailer for Guilty Gear™ -Strive-'s New Playable Character, Happy Chaos!
Today, a new playable character for the highly praised 2D fighting game for PlayStation🄬 4 and PlayStation🄬 5 Guilty Gear -Strive-, named Happy Chaos, has been announced with a reveal trailer
The update for the release of Happy Chaos will also include an additional feature, Room Customization, allowing players to customize Player Match rooms. The Arcade (APM3) version will be updated simultaneously, adding Happy Chaos.
■Introducing the 3rd DLC Character, Happy Chaos, with a Reveal Trailer!
Happy Chaos has been chosen as the 3rd DLC character for Guilty Gear -Strive-.
Players with the GGST Season Pass 1 will have access to him as of November 30, and he will be available for individual purchase as of December 3.
Make sure to check out the Happy Chaos reveal trailer, Guilty Gear -Strive- Season Pass 1 Playable Character #3 Trailer.
Guilty Gear -Strive- Season Pass 1 Playable Character #3 Trailer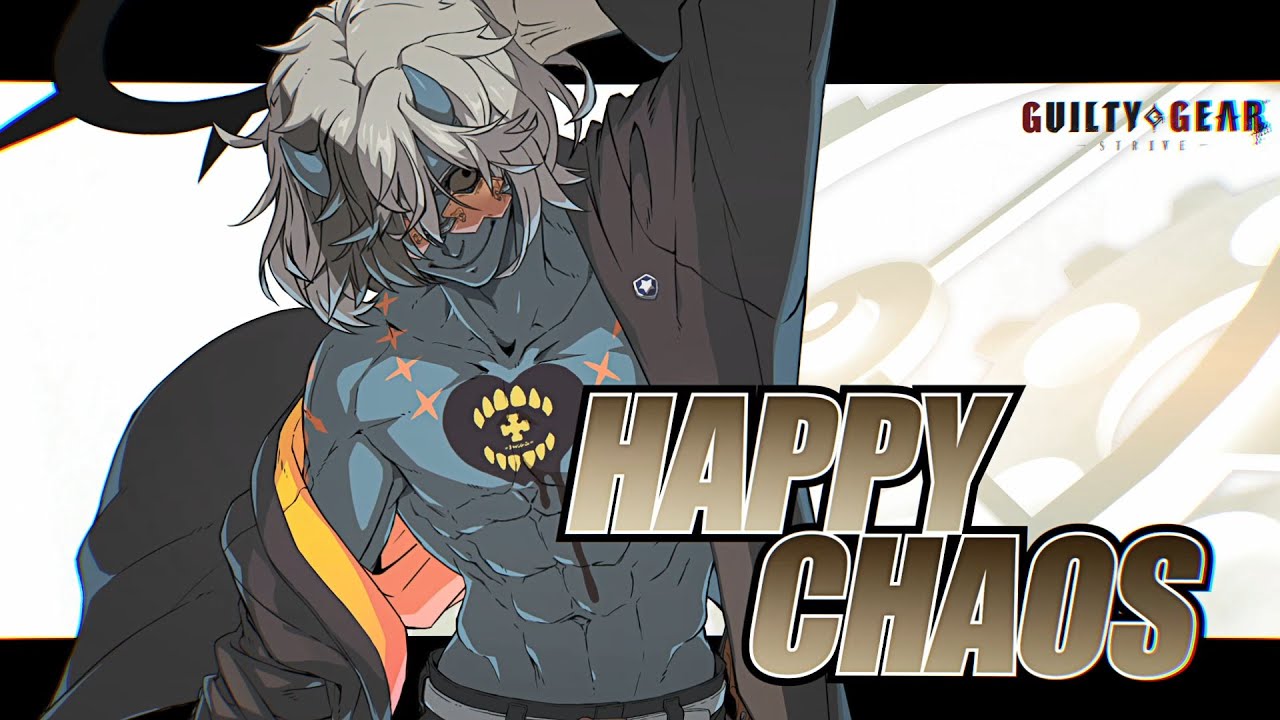 ■Character Profile
■Name: Happy Chaos
■Height: 179 cm (5'10)
■Weight: 64 kg (141 lbs)
■Blood Type: Unknown
■Birth Date: January 16
■Origin: Ireland (when he was human)
■Hobbies: Going for drives, looking for regional sweets, looking for beginner level instruments with quality sound
■Values: His values change often due to his lack of attachment--currently he values a toy jewel he picked up somewhere.
The Celestial Gun "Moon Blade," of which it is said only 5 exist between all dimensions (he only has one of them, the other is a replica)
His free time is important to him.
■Dislikes: Whatever he happens to dislike at the time. It never lasts very long.
He is the Original, who first discovered the Backyard and taught humanity about magic.
After absorbing half of I-No, he suddenly changed drastically.
He now carries within himself all of humanity's hope towards living.

He feels that his existence will be forgiven by a greater will when humankind loses their humanity.
The concepts of good and evil are of equal value to him.
He may cause major incidents, but he could also end up on the side of justice.

■About Room Customization, a New Feature Released Alongside Happy Chaos!
When Happy Chaos is released on November 30, a new feature, Room Customization, will also be introduced. This feature lets players arrange a variety of items to customize rooms for one of the network modes, Player Match.
Place furniture, change the wallpaper and location, then play with friends in your personalized Player Match room. Show your own unique room off to your friends!
You can get items such as furniture and wallpaper for Room Customization from an exclusive Fishing mode. Save up $W from Mission Mode and online matches to fish up furniture!
Featuring over 500 customization items! Furniture is divided into 3 types: floor, wall, and ceiling. Up to 80 furniture items can be placed in a room. You can also change the wallpaper, background, and exterior. Recreate your own room, or model one after your favorite character--the freedom is yours to make any room you'd like!